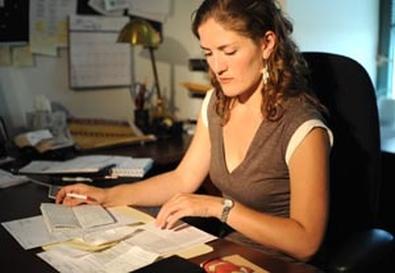 Those who embark on the acting life often experience a vast array of financial ups and downs. Work can be sporadic, payment may vary drastically, and the expense that comes with being a working actor—headshots, demo reels, class—is considerable. With the economy in decline, this balancing act is getting trickier and trickier, so managing your money responsibly is more important than ever before.
With that in mind, Back Stage asked three actors to track their spending for one month to see how they're faring. A pair of financial experts—Bryan Bellomo, head coach at the financial education organization Abundance Bound (www.abundance bound.com), and David R. Colley, a financial advisor at Waddell & Reed (www.davidcolley.wrfa.com)—then offered advice on how these ambitious thespians can best attain their financial goals.
Colley and Bellomo emphasize that a one-month snapshot doesn't necessarily provide the most accurate picture of your true financial health. Therefore, both recommend that all three actors continue to track their finances over more months to get a solid idea of what they're spending, what they're earning, and how they can best take advantage of both sides of the equation.
"I feel like one month isn't always representative, because sometimes you miss that one month where the one biggest expense happens," says Colley. "I tend to look at a quarter more—tracking it over three months. Looking at it over a slightly longer period of time helps."
Additionally, though the three actors profiled here don't have much in the way of debt, actors who do will need to keep that in mind when assessing their own financial health. "Our participants were unique in that they carried little to no debt on the books, which is highly uncommon," says Bellomo. "This will be a contributing factor for many readers and should be held as a strong priority when making financial decisions. It's unwise to bankroll your career on a credit card, hoping for a big break."
Joshua Raphael Margulies: From Savings to Self-Sufficiency
Joshua Raphael Margulies has already adventured around the world. Born in Kathmandu, Nepal, he was raised in Bali, Indonesia, and Hawaii, where he did production-assistant and extra work on such shows as
Lost
. Margulies now is embarking on an adventure of a different sort. Last year he uprooted his laid-back Oahu lifestyle and made the trek to Los Angeles to pursue acting full time.
He didn't arrive in Hollywood armed merely with aloha spirit; he came over with a savings account of about $23,000, which he has been living on while he tries to jump-start his career. So far he has had decent luck, nabbing an agent and booking roles in an American Film Institute student film and a play in Hollywood. But he says documenting his finances for a month made him realize how quickly he's going through that nest egg. As of the end of April, the actor estimated he was down to about $13,000, meaning he spent about $10,000 since August.
"This was a sobering experience, to see how fast I'm digging into my savings," he says. "I may have to find a survival job soon, but right now I think it's good for me to just be completely focusing on diving in, getting out there."
He says the biggest surprise was the $286.49 he racked up on restaurants. "I was eating out more than I thought," he admits. "It doesn't seem like I eat out that much, but according to the breakdown, I do. Maybe it's dating and stuff, too, 'cause that's expensive and I usually pick up the bill. That was the biggest, like, 'Whoa, I could cut back there.' "
Bellomo notes that Margulies could likely knock down a decent chunk of his expenses—food, drinks, and gas—by getting a few friends together and eating dinner at home rather than going out to a restaurant. "He could be doing that same kind of socializing with friends at his place, and he can potentially knock off $75 a month on gas," says Bellomo. "Then on top of that, let's say he knocked $86 off of dining out, which is very reasonable. That's probably two meals out that he has at home with friends."
Bellomo and Colley note that while it was a savvy move to relocate to Los Angeles with savings, Margulies may need to consider other ways of bringing in income if he wants to stay afloat.
"It's great that he has this chunk now, and I'd hate to see it go all the way to zero before he gets a job," says Colley. "It's not necessarily that his expenses are too high; it's that his income's too low. Both halves of that equation have to work."
In that vein, Bellomo says Margulies could consider getting that survival job sooner rather than later. That way, the nest egg lasts longer. "He may not want to go out and get a job, but when he looks at his situation, he may weigh one thing against the other," says Bellomo. "One thing is, 'I pack up and go home in a year.' Another is, 'I'm out here for five years, I make life a little bit easier on myself because I have a little bit of money coming in every month. In the interim, I'm building the career that I want from a place of stability and confidence.' "
Margulies says he hopes to start drawing up a budget each month so that as he brings in more income from acting, he can add back to his nest egg. And when he eats out, he plans to pay closer attention to what's on the menu—"so that I'm not like, 'Oh yeah, let's get the steak and lobster or a round of drinks for everyone,'" he says, chuckling. "Even today, I had a sandwich at Carl's Jr., and I got the $5 sandwich. I could have gotten the 99-cent sandwich."
Basic Expenses
Rent/housing: 350.00
Utilities: 20.00
Phone: 101.96
Car payment/auto care: 78.48
Gas: 175.17
Groceries: 180.14
Restaurants: 286.49
Coffee/drinks: 155.57
Acting-Related Expenses
Actors Access: 5.00
LA casting: 5.00
Theater group membership (yearly fee): 250.00
Union dues: 90.00
Classes: 370.00
Major Purchases
Traffic violation: 205.00
Other Purchases
Gym: 35.00
Books/copies: 34.51
Parking: 1.00
Misc: 70.00
Rebecca Jupiter: Right for a Business Model
Rebecca Jupiter hopes to make a name for herself as a multihyphenate. The actor is currently producing and starring in
All Dressed Up
, a film she'd eventually like to see on the festival circuit. A sizable chunk of her expenses for the month went into that, but she notes that in general being an actor tends to be on the spendy side.
"This particular month, I didn't spend any money on headshots or business cards, but I usually need to get new business cards every couple months, just 'cause I run out," she says. "And gas: Certainly, I wouldn't be driving very much if I didn't have to go to auditions. And mailings: postage, envelopes, labels. Everything costs money. It's very expensive to be an actor. It's not really a good investment if you don't love it."
Luckily, Jupiter has a passion for the craft. She worked extensively in theater while living in New York, and she relocated to L.A. in November to pursue film and TV work. Prior to her move, she made extra money as a chemistry tutor but decided to give that up to concentrate on acting full time. "It felt like I was often giving things up in order to do my survival job," she says. "It wasn't that flexible. It started to feel like, 'I really need to decide one way or the other, 'cause I don't want to be constantly giving up auditions.' "
To balance the financial burden of being an actor, she tries to live as simply as possible: She says she doesn't shop much, and she cooks most of her own meals at home. Additionally, she has an investment that nets her about $2,000 a month. She says there wasn't much that surprised her about her spending breakdown for the month; it mostly reaffirmed that producing her own work is a hefty chunk of change. "The film's the biggest expense in my life right now," she says.
Jupiter estimates that she's generally breaking even now, but she'd like to be able to save more money. It's also tough to estimate her earnings, she notes, because the money that comes in from acting each month varies so wildly; she pegs her yearly income at $30,000–$50,000.
Bellomo and Colley suggest the actor try to get a clearer picture of her income. Bellomo says going back and meticulously tracking finances through several months would be a good exercise. "At this stage, it's very important for her to do that long view, go back through six months," he says. "That would be great for her because she came out in November. She could really look at all of the months that she's been here."
Colley sees ways Jupiter can take full advantage of her income. "Since she's kind of breaking even with her lifestyle, it seems like the smart thing for her would be to take the acting money that she does get and try to sock as much of it away as possible," he says. "Live on the money from the investment, and sock away the other stuff."
Colley also has a specific system he suggests for this. "One thing I say to a lot of actors is that when you get a check for a job, pay yourself first," he says. "If you really want to put that money into savings, take 10 percent or 20 percent right off the top and put it in the bank—the same way you have to pay your representation. Do that first before you get a chance to spend what's left over."
And because Jupiter is a budding producer, Bellomo suggests she get into the habit of separating business and personal expenses into different columns and bank accounts. "Producing a film is a very savvy, smart move," he says. "I'm sure that will be panning out for her, but I would encourage her to get very clear on what's personal income and expenses, what's acting income and expenses, and what is your bottom-line and top-line producing income and expenses. Those things should be tracked separately; they should have separate accounts. I want to definitely encourage her to be running that business like a business, which means getting very specific on all the individual categories on where that money's actually going for the film. She should know whether she's got a profit or a loss in those columns each month."
Basic Expenses
Rent/housing (includes utilities): 795.00
Phone: 135.00
Car payment/ auto care: 220.00
Gas: 25.00
Groceries: 160.00
Restaurants: 140.00
Coffee/Drinks: 14.00
Acting-Related Expenses
Classes: 400.00
Other: 70.00
Major Purchases
Filing cabinet: 130.00
Trip to New York: 350.00
Film production: 1,250.00
Other purchases
Clothing: 50.00
Makeup: 60.00
Carl Moebus: Trying New Talents
Carl Moebus is reinventing himself for "the 95th time." A 60-something thespian who has been in the business for four decades, Moebus has studied with Stella Adler, recurred on
The Bold and the Beautiful
, and had his scene opposite Woody Allen cut from
Annie Hall
. He has also, he notes frankly, been homeless three times. He has never been without acting work, but his lack of financial savvy has made it difficult for him to flourish.
"I spent my whole life as an actor not knowing anything about finance," he says. "Now I'm learning, finally, after 40 years in acting, how to take care of myself." He currently makes his living from a combination of Social Security and unemployment and estimates he took in about $12,000 last year. He has been tracking his finances since the beginning of 2009 and has studied with Bellomo at Abundance Bound in an attempt to get a better handle on his finances. Already, Moebus says, he has discovered areas where he can save money. He cut out Starbucks, so he brews his own coffee at home. He doesn't own a car, opting to take public transportation wherever he needs to go. And he's trying to think long-term instead of looking for immediate gratification. "If I say I'm going to eat this half chicken at Koo Koo Roo, it will cost me 8 or 9 bucks," he says. "I have a chicken at home, I can make it. I started taking half of [what I would have spent]—that $5—and put it aside, just as an exercise to start saving. And then I put it in a jar and I put it in a separate bank account. So what that's leading to is getting enough money to start investing."
Moebus also hopes to start a home business, possibly in the area of graphics, to bring in extra cash. But in the meantime, he's also looking for a survival job. "I think my ideal place would be a production company, where I could utilize all my talents and gradually work myself into other areas," he says. "I know a little bit about a lot of things."
Colley notes that Moebus needs to earn extra income to balance his finances. "He needs at least $500 more a month," says Colley. "$100 a week—that's not a whole lot to break even. A lot of jobs should be able to generate $100 a week for him." Colley also suggests Moebus look at making a change to his housing situation, which is currently costing about $885. "That's his biggest expense," says Colley.
Bellomo, meanwhile, commends Moebus on his generally frugal living and notes that starting up his home business would be a good way to generate the needed extra income. "If he were to go into graphic design and get a couple of clients at $50 an hour, he's really only looking at two clients, maybe two to three hours twice a week, and he could actually build a significant small business for himself," says Bellomo. "Getting on track really means, 'How do I grow income?' Now it's just about putting a plan in place and determining how he can go about earning a part-time job or building relationships with potential clients."
Basic Expenses
Rent/housing (utilities included): 885.00
Phone: 63.82
Other debts (paying off credit card, etc.): 15.00
Groceries: 105.86
Restaurants: 15.70
Acting-Related Expenses
Union dues: 118.00
DVD to research a role for an audition: 5.46
LA Casting: 10.00
Postage (resumes, reels): 37.51
Classes: 25.00
Networking (drinks at event): 9.00
Other Purchases
Donations: 2.50
Housekeeping (supplies): 11.97
Internet: 22.83
Medical bills: 31.23
Transportation (bus pass): 8.00
Vitamins: 2.49
Office (printer cartridge): 21.29
Laptop payment: 40.00
Abundance Bound (financial education seminar for actors): 75.00