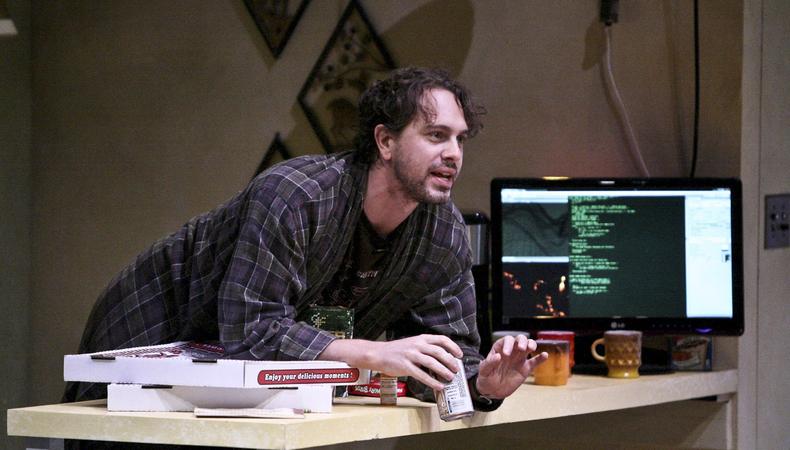 "Zoom out," Kip tells his friend and former video-game compadre Will, who is parsing the revelations of the game engine that Kip has invented. Cities, worlds, and even universes are expanding with every click, and Kip—who isn't doing well and doesn't have a lot to live for—nonetheless finds this cyber-empire building more than a little bit thrilling. "Zoom out," he repeats, his voice getting slightly more impassioned with each instruction.
Will (played by Peter Katona) gets it, but he doesn't. He has arrived at the Palo Alto home once owned by the grandmother of Kip (Thomas Sadoski) bent on forcing his estranged partner to debug the sequel to a multibillion-dollar video game so that it can be sold to hungry subscribers. In this house Will discovers empty soda cans, pizza boxes, and wonders even more astonishing than the aforementioned game engine.
"Build," the Edgerton Foundation New American Play Award winner by Michael Golamco, poses deepish questions in fairly simplistic ways. There's a moral dilemma at stake here (sort of) and a friendship that may be past rescue, but unless you invest in the plight of the play's third character, the stakes aren't particularly high. And the play's final scene is a clunker.
Watchers of, say, "The Big Bang Theory" can buy into the idea that individuals such as technological game-changer Kip may be secluded in Silicon Valley squalor, too fixated or damaged (or both) to receive any help. Sadoski, clad in a ratty bathrobe, a dirty beard, his neck perpetually craned ostrichlike to the left, breaks the character out of potential ultra-nerd stereotyping but just barely. We can believe this is a guy who was seriously quirky even before the roof fell in on him. Costume designer E.B. Brooks helps complete the effect, and the lighting (Daniel Ionazzi) and sound (Vincent Olivieri) convincingly bring off Kip's hidey-hole.
"Build" is a three-hander, but the less revealed about Laura Heisler's role the better. Hers is a character we encounter both on computer screen and in person, and Heisler negotiates a sweet division between the human and the virtual incarnation (although Jane Krakowski set the bar pretty high a couple of decades back in Alan Ayckbourn's "Henceforward…" at the Mark Taper Forum). That one of Heisler's personas is a character we're supposed to root for is problematic. Indeed, Will, Kip, and by extension Golamco seem to be relieved when her story arc is concluded.
Confined as he is to the Geffen Playhouse's smaller Audrey Skirball Kenis Theater, director Will Frears may have been slightly hamstrung by the tech limitations of the space. Ultimately, his production focuses its lens more keenly on human connections—built and repaired—than on the infinite power of possibility. So "Build" zooms in, not out, and quite frankly Will and Kip are considerably less interesting than their horizon-busting dreams.
Presented by and at the Geffen Playhouse, 10886 Le Conte Ave., Westwood. Oct. 24–Nov. 18. (310) 208-5454 or www.geffenplayhouse.com. Casting by Phyllis Schuringa.
Critic's Score: B