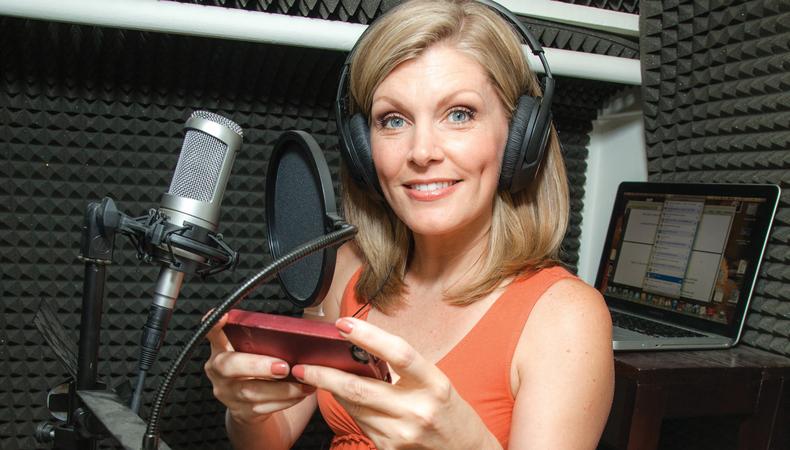 You might recognize Erin Matthews from many of her recent gigs—perhaps as the overly perky flight attendant in "Valentine's Day" or the date on whom Charlie Day projectile vomited blood on "It's Always Sunny in Philadelphia."
Even if you don't know the face, the voice should sound familiar. For the last 20 years, the L.A.-based actor has been heard in such films as Disney's "Tangled" and on campaigns for clients like Walgreens and Wells Fargo. And she does almost all of her VO auditions out of her home—her closet, to be specific.
Matthews initially built a home studio somewhat against her will, when her agency, Vox, went all home studio in 2007. "I really resisted—I had no computer, no Internet access, and I thought I would miss out on getting direction on all my reads," she says. "Now I love it. I can do as many takes as I want, and they get back to clients faster, which is more important than ever." Matthews started off with nothing more than a Snowball microphone, a laptop, and some headphones. With the Snowball costing around $100, she notes that it's really up to you how much you want to end up spending. She then hired Brady Walker of FromHome to build her a full-fledged studio. "That cost around $600 but included materials, labor, and a tutorial of the best way to use my equipment," she says. When she moved to her current home and set up camp in her closet, she estimates she spent about $1,000; that included top-of-the-line equipment such as a $300 microphone.
As for space, you don't need much. "My studio is a closet. Let's just say it's a good thing I don't do group reads in there," she says. "I just brought the acoustic foam, lined the walls, I pull another piece over my head when I'm in there, and there's a heavy curtain that I close on the door. I set up my computer on one side; my microphone is on the other. I read my copy off my phone. That's it!"
Walker notes that if you use your closet, you might not even have to move your clothes. "I had a client who showed me their space, and I said, 'Do nothing. Your clothes are absorbing all the sound; it's completely dead in here. We don't have to do anything. Just throw the mic in the middle of the room and close the door. We're good to go.' " Walker adds that all you need is a good space to record. "If it's just an audition, don't worry too much," he says. "You want it to sound as good as possible, but don't stress about it. Try to deaden the sound. Get a good microphone, headphones, a preamplifier to talk to your computer, and some editing software for your computer. That's really all you need."
The advantages are enormous. "Aside from the obvious benefit of not having to drive to my agency every day, it really is freeing to take as much time as you need on a read, and very helpful that you can play back to hear what works and what doesn't and edit your audition together yourself," Matthews says. "I usually get my auditions the day before they're due, so I can do them whenever I have time and whenever my voice is at its best. The only drawbacks are not getting immediate direction, not getting to see my amazing crew over at Vox every day. And the sometimes noisy distractions at home—dogs, planes, traffic, phones, spouses. But overall, I am so glad Vox insisted I get with the times. It simplified my life and improved my booking rate."
Inspired by this story? Check out our voiceover audition listings!