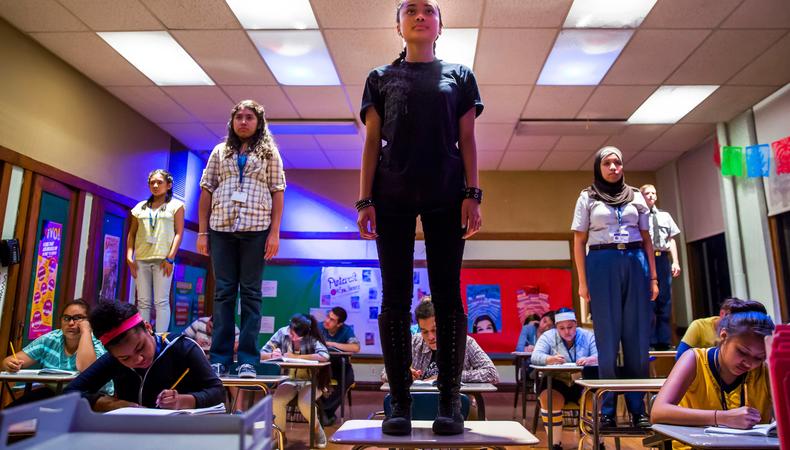 "One of the great delights as a theatermaker," says David Feiner, "is when you see something and think, 'I've never seen that before and didn't know that that was possible.' "
That phenomenon is taking place most afternoons and evenings between now and Dec. 17 at a Chicago high school. The show's creators? Local teens. Its cast? Local teens. Its real-life stories, revolving around the likelihood of earning a high school diploma in Chicago today? Delivered by those teens, such stories resonate on more than just a theatrical level.
"Learning Curve," an immersive theatrical collaboration between Albany Park Theater Project and Third Rail Projects, is performed on all four floors of Ellen Gates Starr High School. Audience members move through dozens of rooms, hearing words from interviews with actual students, parents, and teachers—all of which were conducted and interpreted for the stage by Albany Park Theater Project's youth ensemble.
The show, co-presented with the Goodman Theatre, has received extension after extension due to rave reviews and word of mouth; theatergoers and social justice activists alike are calling it Chicago's best-kept secret. "The teens who perform the show are the co-creators of the show," says Feiner, the producing artistic director of APTP, which he co-founded in 1997. "Albany Park Theater Project is that rarity in youth theater—also, I think, a rarity in theater in general in the U.S.—in that it's a true ongoing ensemble," he explains. "[They're an] ensemble of teen artists that creates original performance inspired by the real-life stories of immigrant and working-class Chicagoans and inspire people to envision a more just and beautiful world."
Because members of the youth ensemble are introduced to APTP in their middle schools and join not just as actors, but as "artists, storytellers, activists," says Feiner, they are engaged with storytelling on an intensely personal level. In addition (and unlike many youth theaters), they hail from some of the poorest and most disadvantaged neighborhoods in the Windy City, and may very well constitute its most ethnically diverse ensemble. "Most are either immigrants themselves or are the children of immigrants. They're an ensemble that works together, week in week out, for several years. Most will spend six years working together." That kind of long-term intimacy, he adds, can create a theatrical cohesion impossible to achieve in, say, a four-week rehearsal period.
READ: "7 Training Programs for B'way-Bound Kids"
The benefits of APTP for its youth performers, Feiner says, are twofold. "You're performing for more that 10,000 audiences a year as an ensemble member, but you're also working on imagining and pursuing your future—kind of beating the odds that are still against most young people in Chicago." Hearing and seeing testimony that hits so close to home, audience members realize they're in what Feiner calls a "high-stakes performance. It is vitally important for [these performers] to tell these stories they're telling. They've conducted the interviews, they've met the people, they feel people have entrusted them with their stories."
For that reason, "Learning Curve" audiences also feel they are essential to the immersive world of the play. It's a feeling Feiner experienced upon seeing Third Rail Project's immersive, Lewis Carroll-inspired production of "Then She Fell" in Brooklyn, New York in 2013. "I had the experience...that it was being crafted in the moment for me, that what I experienced was spontaneous, was in relation to me, was informed by me. That was just electrifying." He introduced himself to Third Rail Project's co-artistic director Jennine Willett and eventually began the two-year process of staging "Learning Curve."
"It's making audiences feel like they are simultaneously at an exquisitely rehearsed and crafted performance, and also present to witness something true and authentic in the moment," says Feiner of the company's style. "Obviously we talk about that in theater all the time, being live, 'No two performances are ever the same.' And I believe that. But one of the ways we enhance that at Albany Park Theater Project is that all our performers...are young people from a neighborhood in Chicago that is working class, mostly immigrants, people of color, and feels marginalized. It's a neighborhood that doesn't feel its stories and voices are heard that often."
READ: "3 Chicago Internships for Tomorrow's Best Theater Makers"
Not only are APTP youth ensemble members graduating high school at far higher rates than on average in Chicago, they are learning specific storytelling techniques—clowning or percussion, for example—and all-encompassing skills, like communication and collaboration, equipping them for promising artistic futures. "If you're thinking of yourself as an artist at 15, then maybe by the time you're 30 you're applying that artistry to your life as an actor, a dancer, a teaching artist; maybe you're taking your skills as a storyteller and translating that to a different profession," says Feiner.
It's a stirring example of youth theater at its most successful and most engaged.
Inspired to work on the Chicago stage? Check out our audition listings!
And if you're a teenager looking for advice, visit Backstage's YouTube channel: