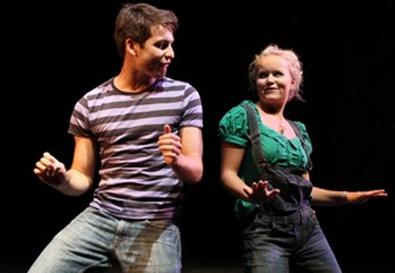 Watching Amanda Jane Cooper belt out the comedic number "Hot Mess" in "Bunked!" must be similar to how audiences of "You're a Good Man, Charlie Brown" felt when Kristin Chenoweth first socked over "My New Philosophy." Cooper, who looks and sounds remarkably similar to Chenoweth, is a buoyant delight, in a show that doesn't even need her wattage to succeed.
Alaina Kunin and Bradford Proctor have written a funny, hip musical about hormone-addled counselors at Camp Timberlake that has attracted an abnormally talented cast, here displayed to perfection by director Seth Sikes. From Tim Ehrlich's out and proud Oliver to Lizzie Klemperer's layered Carmen, the cast, rounded out by Ben Moss and Jake Loewenthal as conflicted love interests for the ladies, is embarrassingly good, even when the songs' rhymes veer to outrageously bad. But the miscalculations are few and far between. "Bunked!" remains a frothy, giggly delight for its duration.


Presented by Proctor and Kunin Productions as part of the New York International Fringe Festival at the Lucille Lortel Theatre, 121 Christopher St., NYC. Aug. 17–25. Remaining performances: Fri., Aug. 20, 4:15 p.m.; Sat., Aug. 21, 2:15 p.m.; Sun., Aug. 22, 8 p.m.; Wed., Aug. 25, 10:45 p.m. (866) 468-7619 or www.fringenyc.org. Casting by Benton Whitley.