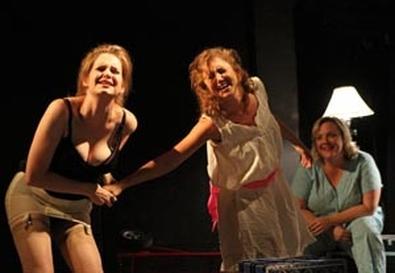 There's a lot of impressive writing in "Buried Words." However, Karen Smith Vastola's play feels unfinished as it depicts how love between two sisters, Babe and Abbey, survives an upbringing laden with parental dysfunction.
The story begins as the sisters, adult women, prepare for their mother Sheila's funeral, then moves into flashbacks depicting the sisters' angst-ridden childhood. The script crackles with incident—from Sheila's comically epic struggle to remove a girdle to drunken rage and attempted suicide—but never comes fully to grips with the reasons for the deep chasm between mother and father that has caused such family turmoil. The commotion on stage sometimes seems like so much sound and fury signifying not much.
Nevertheless, the production has been given an imaginative staging by director Johanna Gruenhut, and in the four-person cast Jennifer Conley Darling, as brainy Babe, and Eve Danzeisen, as girly Abbey, are outstanding. They deliver Vastola's thoughtful dialogue with arresting clarity while convincingly enacting the characters' frequent shifts in age.
Presented by Stark Theatre Company as part of the New York International Fringe Festival at the Kraine Theater, 85 E. Fourth St., NYC. Aug. 15–28. Remaining performances: Sat., Aug. 20, 4:45 p.m.; Wed., Aug. 24, 8:45 p.m.; Sat., Aug. 27; 8:15 p.m.; Sun., Aug. 28, 2:30 p.m. (866) 468-7619 or www.fringenyc.org.