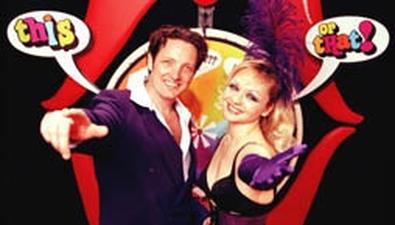 Four years ago, Fred Kahl decided he needed to make some "good, clean fun."
But Kahl -- better known in the New Burlesque community as performer, magician and MC "The Great Fredini" -- has more of a Blue State definition of those words.
"My friend said, "You are the next Chuck Barris," says the tall, lanky Kahl. "You should do a game show!"
So he created "This or That!" a spirited onstage 'burlesque game show,' now playing Friday nights at 8 pm at Manhattan's Belt Theatre (336 West 37th St., NYC). The regular cast includes Kahl, co-host Julie Atlas Muz, MC Brian Fisherman, and the "This or That!" girls: burlesque performers Bunny Love, Bambi and Lady Ace.
More bawdy fun than "Wheel of Fortune," "This or That!" takes two contestants from the audience and pits them against each in a series of racy 'challenges,' most of which involve food or playful sexy situations. Prizes include adult toys and "totally worthless 'This or That!' dollars!" But the show's really an excuse to allow the contestants -- and the cast -- to get a little wild and have fun.
Crazy Girl
Kahl says the first show offered him a welcome release at a painful time.
"I channeled all the angst of my divorce into creating this 'I just want to have fun' experience," says Kahl. "The show was pretty over the top."
With a hastily constructed set, Kahl mounted the first production of "This or That!" in late summer at Coney Island's Sideshows by the Seashore. The show was a chaotic mix of burlesque and variety acts. Kahl, who had worked as MC and performer at the Sideshow for six seasons, says the crowd that night became a little woolly.
"Some crazy girl just appeared onstage in the middle of the acts. And the crowd started chanting, 'Crazy girl! Crazy girl!'"
But the show gave him just the rush he needed. "I was still high from the show the next day."
The following year, Kahl and Sideshow owner Dick D. Zigun agreed to put the show up four times that summer, two shows a night. Kahl then asked Julie Atlas Muz to co-host.
In the last few years, Muz has become a major force in the NYC New Burlesque scene as well as a prominent modern dance choreographer: Her most recent work, "I Am the Moon and You Are the Man on Me," was a hit at P.S. 122 in November, and two burlesque-tinged shows of hers, "Treasure Box" and "Rite of Spring," were part of the 2004 Whitney Biennial.
But in this show, the Detroit native would play the supporting character. And that was fine with her.
"I love to play the supporting role," says Muz. "It's such a responsibility to carry a show. But to play the minor -- that's a blast!"
And what exactly her role would be was quickly clear.
"Before our first show, Fred gave me a picture of Vanna White," laughs Muz. "He said he wanted me to be like Vanna White -- on crack. So I guess that makes him Pat Sajak -- on crack."
Development
Slowly refining the show over three summers, in "baby steps," says Kahl, has given the show a quality they both enjoy -- the freedom to experiment.
"'This or That!' was developed onstage," says Muz. "It wasn't developed by sitting around a table. Because of that the show has a [theatrical] immediacy.
"There's a privilege to developing work while performing it that's totally unlike developing work in rehearsal. I don't feel like a theatrical work can be complete until you have an audience."
Part of that development included input at one point from theatre director and teacher David Kaplan. A friend of Zigun's from their college days at Yale University, his advice was practical.
"David insisted on a structure so that we could better control the show," says Kahl. "When we started, we literally didn't know what was would happen next."
That included transforming it from a game show into essentially a play -- storyline and all.
"David brought in the notion of making the show completely fixed," says Kahl, taking the emphasis off who wins and putting it on the experience itself. "In the story arc we created, though the contestants don't know it, they become the stars of the burlesque show."
Contestants face several 'challenges' during the hour-long evening intended to facilitate this transformation. Most -- from Faking the Best Orgasm to the outrageous Sexy Banana-Eating Contest (assisted enthusiatically by the "This or That!" girls) -- involve a healthy dose of sexy playfulness onstage.
"Over the course of the night, we get them to come out of their shells," added Kahl.
But both emphasize that the show is not mean-spirited.
"We try to create a situation of trust," says Muz. "And we have to do it very quickly, mostly onstage.
"It's about fun, and putting forward a positive sexual message," she adds. "If people can laugh at themselves, they'll [discover] that we really are behind them supporting them. We don't want anyone to feel uncomfortable."
Which makes Muz feel great about what they're doing.
"If there's any burlesque show that can take over the world, it's 'This or That!' Definitely."
"This or That!" will perform on Friday, Dec. 17 at 8 pm at The Belt Theatre, 336 West 37th St., NYC. (More shows are scheduled for January; details to follow.) Tickets are $20. For more information, visit www.thisorthat.tv. For tickets, visit www.theatermania.com.
You can also watch the show Sunday nights at midnight on Manhattan Cable channel 57. For more information, visit www.mnn.org.