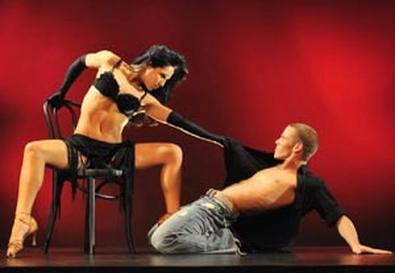 The first show of the new Broadway season, "Burn the Floor" is a dazzling dance revue sporting an international cast of championship Latin and ballroom dancers, including—for the next three weeks only—Maksim Chmerkovskiy and Karina Smirnoff from TV's "Dancing With the Stars." Directed and choreographed by Jason Gilkison, the pumped-up production charges with supersonic speed through a stylish array of couple and ensemble numbers representing all 10 of the international-style competitive ballroom dances. There are beautiful standard waltzes, dreamy Viennese waltzing (by the transporting husband-and-wife team of Damon and Rebecca Sugden), a fiery tango, passionate paso dobles, some snazzy quickstepping, a minimum of fox trotting, and lots of jive, cha-cha, rumba, and samba—all danced to invigorating live music featuring vocalists Ricky Rojas and Rebecca Tapia.
Of the revue's four segments—"Inspirations," "Things That Swing," "The Latin Quarter," and "Contemporary"—the second, a sequence of swing dances, is by far the most theatrically successful. What comes before, a series of hard-hitting presentations of the different dance styles, is performed with such aggressive athleticism and competitive energy that it feels like a sporting event. When the dancers display individual feats of technical virtuosity, the audience responds like ballpark fans to a home run. Though the performers are stunning to look at and exhibit uniformly superb technique, the dancing in the first segment remains only superficially engaging, because Gilkison's choreography lacks variety and ingenuity. He stays confined for the most part to the social-dance vocabulary and generates dramatic interest by either upping its athletic quotient or having the performers imbue their dancing with inflated emotional intensity.
In "Things That Swing," however, Gilkison adds a heavy dose of Bob Fosse to various swing dance styles and produces five fabulous dances that feel more like Broadway production numbers than dance-competition routines. A jiving couple is often framed by a black-clad ensemble in derbies slinking around in sensual Fosse-esque moves and postures that echo or elongate the swing shapes, filling the stage with more fully developed movement statements.
While Broadway theater lovers will undoubtedly find the Fosse-influenced scenes the most satisfying, real dancesport aficionados may go wilder over "The Latin Quarter." Though the dancers are nothing less than brilliant all evening, it is in these tricky Latin numbers that one really appreciates their world-class talents. I couldn't help but wish that the tiny seed of a love-triangle narrative planted during a luscious rumba (featuring the gorgeous Peta Murgatroyd) had been further extended dramatically. Yet Gilkison lends choreographic intrigue to a tango by surrounding the central couple with a male quartet that reflects both the lines and ardor of the duo. (And yes, the tango was included in the Latin portion of the show, even though in competitions it is classified as a standard, not a Latin, dance.)
The evening culminates with the disappointing "Contemporary" segment, in which no real contemporary dance flavors (e.g., hip-hop) are tasted. Instead, every dance cliché in the book is revisited, including the requisite chair number and the "steamy" pas de deux, with him in torn jeans and her in sexy underwear. But don't leave early! There's an electrifying finale to "Proud Mary" that will surely inspire you to cash in the coupon for a free ballroom dance lesson that a local dance studio is distributing outside the theater.
Presented by Harley Medcalf, Joe Watson, Richard Levi, Richard Frankel, Tom Viertel, Steven Baruch, Marc Routh, Raise the Roof One, and Toppall/Stevens/Mills, Benigno/Klein, Caldwell/Allen, Carrpailet/Danzansky, Bud Martin, the Production Studio, Schaffert/Schnuck, and Carrie Ann Inaba, by special arrangement with Dance Partner Inc. at the Longacre Theatre, 220 W. 48th St
.,
NYC. Aug. 2
–
Feb. 14. Tue
.,
7 p.m
.;
Wed
.–
Sat
.,
8 p.m
.;
Wed. and Sat
.,
2 p.m
.;
Sun
.,
3 p.m
. (
212
)
239-6200
, (
800
)
432-7250, or www.telecharge.com
.