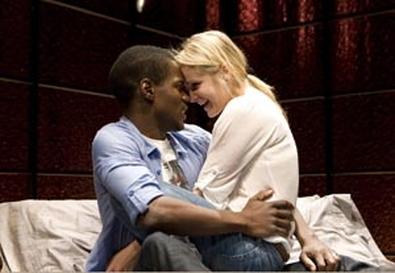 With "Burning," the New Group brings downtown provocateur Thomas Bradshaw to the world of uptown theater. For his first Off-Broadway production, Bradshaw has written an ambitious two-hour-and-45-minute saga spanning eras and oceans and punctuated with graphic sex scenes as he attempts to show how race and sexuality are artificial constructs. On the plus side, the play is never boring and rarely predictable. But Bradshaw's peculiar mix of sincerity and satire is no more successful here than it was in his "The Bereaved," which I saw at the Wild Project in 2009. Thin characters can't sustain the naturalistic acting, and the satire is more silly than savage.
Intersecting stories follow a contemporary 30ish African-American painter, the macho and controlling Peter, whose work involves racial themes but who doesn't want the world to know he's black, and sweet-natured 14-year-old Chris, a would-be actor who supports his mother's cocaine habit by working as a prostitute in Reagan-era San Francisco. When Chris' mother dies of an overdose, he flees to New York City to audition for a performing arts high school that's run by famous actor Jack, who lives in Greenwich Village with his lover, Broadway producer Simon. The couple quickly take Chris in to live with them as their "son." Peter is married to the white and British Josephine, who is Chris' half-sister (they've never met), and Peter's 19-year-old cousin Franklin eventually gets involved with a grown-up Chris. Then there are 20-something Michael, also an artist, and teenage Katrin, a brother-sister duo of neo-Nazis living in Germany who have been orphaned by a car accident that also crippled Katrin. When Peter's art wins over Michael's for a showing in the gallery where Michael works, it's not hard to guess what's coming. Chris' story is more surprising and less apocalyptic.
The numerous scenes of carnality—Simon and Jack (and eventually Chris); Peter and Josephine; Chris and Donald, the author of a play Simon is producing; Peter and Gretchen, a black German prostitute; older Chris and Franklin; even a surprising and disturbing one for Michael and Katrin—are presented with matter-of-fact specificity but only rarely provide enough character information to justify their explicitness. Moments of would-be satire—Jack and Simon's casually predatory behavior with Chris, Peter's sudden conversion by Gretchen to the idea of becoming a black role model—just play as cheap. Bradshaw throws out lots of ideas—as everyone's idea of happiness is different, the pursuit of it can mean considerable unhappiness for others; if there is no God, then nothing is unnatural but "self-deprivation"; bad behavior can have good consequences and vice versa—but they feel random and forced.
Director Scott Elliott deploys his talented 13-person cast confidently amid all the wheeling on and off of modular furniture and beds that constitute Derek McLane's minimalistic set. Surprisingly, despite the generally good acting, there's no sense of ensemble cohesion. Making the biggest impression are Stephen Tyrone Williams as Peter, Evan Johnson as Chris, and Hunter Foster as older Chris. Williams delivers a subtle and sympathetic rendering of an unlikable character. Johnson, making a strong Off-Broadway debut, emphasizes Chris' blank-page eagerness to be written on, while Foster expertly incorporates Johnson's vocal and physical mannerisms into his portrayal. (Of course, the 20-something Johnson isn't remotely believable as a 14-year-old, but if the part were cast with an actor who actually seemed 14, the play would curdle long before curtain.) Vladimir Versailles charms as the sexually confused ghetto kid Franklin, particularly in the light-bulb moment when he suddenly realizes how much he enjoys intercourse with a man, and Reyna de Courcy is an intriguing mix of vulnerability and hate as Katrin.
I admire Bradshaw's ambition and nerve in writing "Burning," but I'm afraid I'm still waiting for my own light-bulb moment when I'm persuaded by his method.

Presented by the New Group at the Acorn Theatre, 410 W. 42nd St., NYC. Nov. 14–Dec. 17. Mon.–Wed., 7 p.m.; Thu. and Fri., 8 p.m.; Sat., 2 and 8 p.m. (No performance Thu., Nov. 24.) (212) 239-7200, (800) 432-7250, or www.telecharge.com. Casting by Judy Henderson.