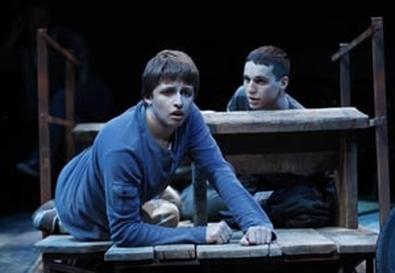 Christianity and homosexuality are at odds in contemporary American society. Extremist churches like Westboro Baptist in Topeka, Kan., perpetuate negative stereotypes of both Christians and the gay community. Playwright James Lantz paints this stereotypical view of Middle America in "The Bus." While the leading actors deliver moving performances, the characters feel like tools to prove a worthwhile though hackneyed point.
Two closeted high school students, Ian (Will Roland) and Jordan (Bryan Fitzgerald), meet regularly at a Texaco Star gas station, owned by Ian's father, to talk and fool around in a church bus that has been parked on the property for 15 years. The main action is set in motion when Ian's father, Harry (Travis Mitchell), loses his patience with the church, aptly named Golden Rule, and pushes it to remove the bus.
As Harry's fight with the church becomes increasingly heated, Ian unexpectedly supports his dad. This seems to come out of nowhere. Ian lives with his Bible-beating mother (Kerry McGann) and rarely sees Harry. Perhaps Ian wants to destroy the vehicle because it represents his shame, but this motivation is not fully developed. There are touching moments of dialogue. "Why can't we hang out like regular kids?" Jordan prods. "We are regular!" Ian exclaims. Lantz has also written entertaining lines. "I don't even like musicals," Ian says to prove he doesn't fit the gay stereotype.
The play starts off slowly, with a young girl (Julia Lawler) describing unseen set pieces, almost mimicking the Stage Manager in "Our Town." However, the set does exist, as a platform with a few wooden benches. It's surprising that it took three people—John Maurius, Mark Dabelstein, and Isaac Wasuck—to construct it. A few chairs would have worked just as well, since the platform does not add aesthetic value. It does provide a place to hide lights for designer Chris Dallos' impressive evocation of a gas station at night. Director John Simpkins optimizes the small playing space with carefully choreographed staging.
Fitzgerald and Roland bring depth to Jordan and Ian. McGann embodies the stereotypical Southern Christian lady but struggles to create any emotional density. Granted, Lantz does not give her character many facets. Mitchell overacts many of his more intense scenes. His final moments are moving; it's a pity his performance doesn't have the same poignancy throughout. Lawler is sweet as the young girl, who takes on every additional role, from a fire-and-brimstone minister to a lawyer to an old church lady. Her main role is Jordan's younger sister, the one character who completely accepts him. By making a young girl the one tolerant character, Lantz implies hope for the next generation.
The show drags for too long after an intense climax, and though the dramatic crux becomes increasingly predictable, I admire Lantz and Simpkins for tackling such heavy subject matter. However, they don't scratch below the surface.
Presented by Starry Night Theater at 59E59 Theaters, 59 E. 59th St., NYC. Oct. 9-30. Tue.-Thu., 7:30 p.m.; Fri., 8:30 p.m.; Sat., 2:30 and 8:30 p.m.; Sun., 3:30 p.m. (212) 279-4200 or www.59e59.org. Casting by Paul Davis/Callieri Casting.