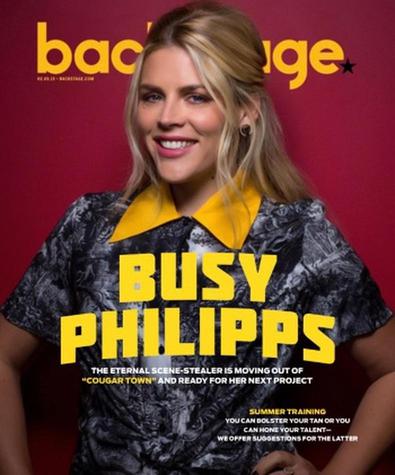 For almost the first time since she was 19 and a series regular on the short-lived but beloved 1999 TV show "Freaks and Geeks," Busy Philipps is suddenly not so busy.
"I'm out of a job right now," she says with a smile. In December she wrapped the sixth and final season of "Cougar Town," on which she starred as standout supporting character Laurie Keller. "It was hard, weird, and very emotional," she says intently. "It's the longest show I've ever been on. My daughter Birdie was 5 months old when I got the pilot; now she's 6-and-a-half and a kindergartner. And I really enjoy my time off with the kids, doing the things you don't get to do when you're a working mom; going to baby classes, doing the lunch thing at my daughter's school. I've volunteered for the auction committee too!"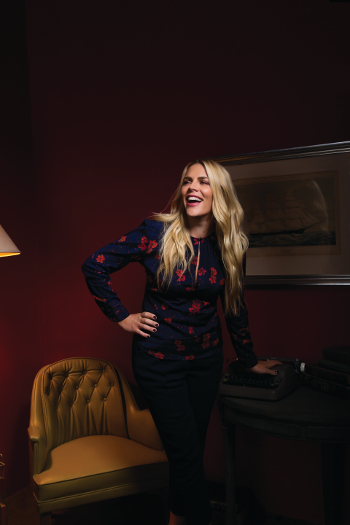 Cradling a latte at one of her favorite eating spots in Silver Lake—she and her husband, writer-producer-director Marc Silverstein, are such regulars here that they've made the "wall of fame"—she's surrounded by late-lunching hipsters, the sort now discovering "Freaks and Geeks" on Netflix. "I play a game when I can tell someone's approaching," she says. " 'What are they going to recognize me from?' If they're a young hipster, they're going to mention 'Freaks and Geeks.' Sometimes I'm surprised, though, and they're really into 'Cougar Town' or 'Dawson's Creek.' "
Philipps joined that teen sensation for its final season in 2002; three years earlier, this Chicago native was in her sophomore year studying theater at L.A.'s Loyola Marymount University when she ran into college mate Linda Cardellini. "She said, 'I just got this show "Freaks and Geeks" and they told me you're going to be in it.' " The problem was that Philipps had not yet committed: Her agents were holding out for a series regular role, while her parents insisted on college. "But Linda said I had to do it! And she's such a great girl. She's not that much older than me but to this day, it's like, I want to be her when I grow up." So Philipps signed on for the show, created by Paul Feig and executive produced by Judd Apatow, which also served as a career launch pad for Seth Rogen, Jason Segel, and James Franco. She clashed with the latter initially, but the pair resolved their differences long ago. "At the time it felt very dramatic. Now I think, How cute were we? We were such little assholes! I really adore him now."
"Freaks" remains, along with "Cougar Town," her favorite job. There she learned not only the rudiments of acting for television from Apatow and Feig, but also the importance of expanding her own talent pool. "I've had some little bits of success with writing [she's a WGA member with a writing credit on 2007's "Blades of Glory"] and I directed my first episode of 'Cougar Town' this season. That was really exciting, scary, and a lot of work. But I loved it. It's getting harder and harder to just be an actor. You're sort of expected to be more."
In 2006, Philipps joined "ER" for a 14-episode arc. "I had auditioned multiple times for 'The West Wing' and felt really good about it, and then for 'ER.' Neither of the roles worked out at the time, but [producer] John Wells called my agents and said, 'These shows aren't happening for her right now but I'll find something, I promise.' And I swear to you, three years later they called to say there was a new doctor on 'ER' and they'd love me to do it. I didn't even audition, so these things do come around." (As Wells puts it, "Busy is very memorable! We didn't cast her the first time, but I couldn't stop thinking of her wonderful audition. When another part came up several years later, she was immediately my first choice.")
By 2008, Philipps was craving some workplace levity and gave her agents a specific directive. "I only wanted a comedy. Dramas tend to have longer shooting hours and where I was in my personal headspace from being a new mom, I didn't want to go to work and cry or talk about rape. I wanted a half-hour, single-camera comedy with a great lead where I could be No. 2 or 3 on the call sheet and it was going to get on the air. Those were my criteria and they sent me 'Cougar Town.' I read it and loved it." Courteney Cox as the lead was icing on the cake for this real-life master cake baker and self-professed huge "Friends" fan. Naturally, she was nervous about auditioning but need not have been. It was obvious to all concerned, including Cox in her capacity as executive producer, that they had found their woman. "Busy's rhythms are all her own and so unique," Cox explains. "You have to be really comedy-savvy to pull off the runs Laurie has."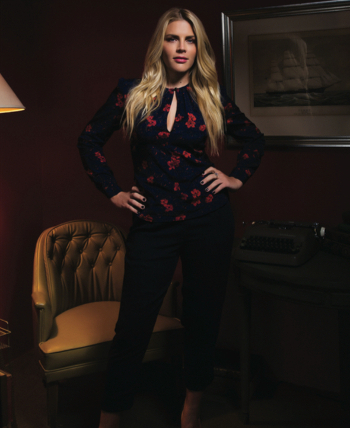 No one, least of all Philipps, anticipated Laurie becoming the cougar of the (much-derided) title as mother to a baby with Travis (Dan Byrd), Jules' (Cox) demonstrably younger son. "I had no idea that was going to happen," Philipps says with a laugh. In 2011, Philipps won the Critics' Choice Best Actress in a Comedy award, the same year Laurie roundly dismissed any prospect of ever being married or having children. Philipps had briefed the show that another pregnancy was in the cards (one that duly transpired with the birth of her daughter Cricket), but it was too soon for Laurie. "I wished the storylines could have lined up. It felt like a little bit of a waste, but Laurie and I were at different places in our lives. She wasn't ready when I was!"
Philipps is quick to express gratitude for both the job security and transformative character development. "I'd have kept doing the show. If you're not in a place where you're grateful that your show keeps getting renewed and you can't figure out a way to keep it fresh, you should pick another career. What was so great for me was that even on a broad comedy like ours, we've been able to show the evolution of a character that you wouldn't be able to get in a movie version. In that version, Laurie would be so two-dimensional. We've been able to show how she's grown up in a very realistic way. In six years she changed from being the slutty 20-something who's out partying every night to getting in a relationship, starting a business, buying an apartment, and having a baby. Some people it doesn't happen for, but it happens for Laurie and I'm really happy for her."
Uncertain of her future plans, Philipps is certain only of a markedly different strategy. "I'm open to all possibilities now if people are interested in me and my work. I love proving that I can do something." She has already proved herself to a myriad of high-stakes Hollywood players, including Cox, who says: "Busy can do whatever she wants. She's had such a long and amazing career; I'm excited to see what's next."
Having been a TV scene-stealer for so long, does Philipps not feel it's time to be the star of her own show? "I guess in a network sense it would feel the right progression is to be the lead of a show. And I'm an actress, let's not forget that. My ego would love it!"
Want to read more? Check out our Backstage covers here!