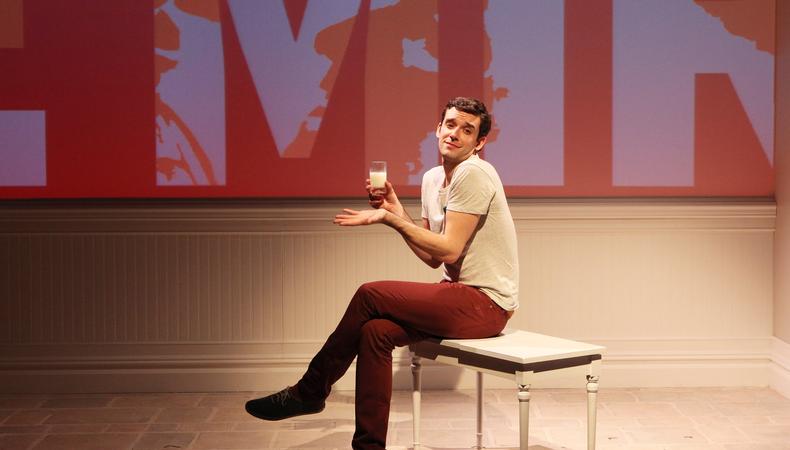 Jonathan Tolins has had a capital idea for a one-man show. After reading in Barbra Streisand's 2010 book "My Passion for Design" that her basement is a re-creation of a street lined with period shops that contain her many acquisitions arranged as merchandise, he wondered what it would be like if Streisand's passion for verisimilitude extended to hiring someone to work as a salesperson in the stores, with the star, of course, as the sole customer. The result, "Buyer & Cellar," is inventive, witty, and pretty wonderful, a fleet 90 minutes of the way Barbra might be, delivered with oceans of charm by the impish, utterly delightful Michael Urie.
Actor Alex More has been fired from his job as the mayor of Toon Town at Disneyland after losing his cool with a nasty child. Friend and romantic admirer Vincent, who works in human resources for Disney, wants to help and calls Alex with a mysterious job offer in Malibu. So the young man drives his battered Jetta to the beach to check things out. Arriving at a palatial gated estate, he is interviewed by the seen-it-all Sharon, who explains the gig and though dubious agrees to try him out, proffering a gigantic confidentiality agreement. When told that the name of his employer is Barbra, Alex immediately signs. His boyfriend Barry, a struggling screenwriter and TCM junkie, goes gaga and wants to wire him for sound, but Alex's cooler head (and that agreement) prevails. Soon he is spending his days caring for the merchandise, cleaning the stores, and waiting for Her first visit. When it comes, she answers to the name of Sadie, but Alex's improv skills soon prevail, and the two graduate to a first-name basis. As Barbra involves Alex more and more in her life, Barry's jealousy escalates. Is Barbra really Alex's friend, as he likes to think? If so, why hasn't he been invited upstairs?
Under Stephen Brackett's deft direction, Urie gracefully keeps the bubble afloat, giving each character a slyly comic slant, even James Brolin, who makes a cameo appearance in search of frozen yogurt. Alex warns us up top that he doesn't "do" Barbra, and Urie finds her in subtle physicality and touches of a Brooklyn accent. While Tolins trains his subversive gaze on all his characters, he keeps them sympathetic, and Urie knows just when to move in for sweet, even tender moments.
Set designer Andrew Boyce's "putty linen" room with chair rail is appropriately immaculate, very Streisand, and nicely captures Eric Southern's back washes of colored light and Alex Koch's stylized projections. Jessica Pabst's simple contemporary garb flatters the handsome Urie, and sound designer Stowe Nelson does well with his pre-show selection of Streisand songs in the hands of other performers.
She may not always behave well, but there is plenty to like about this Barbra. Should Streisand ever see "Buyer & Cellar," I have a hard time imagining her response as anything but warm to Tolins and Urie's affectionate, highly entertaining fantasia.
Presented by and at Rattlestick Playwrights Theater, 224 Waverly Place, NYC. April 3–May 12. (212) 352-3101, (866) 811-4111, www.theatermania.com, or www.rattlestick.org. Casting by Calleri Casting.
Critic's Score: A