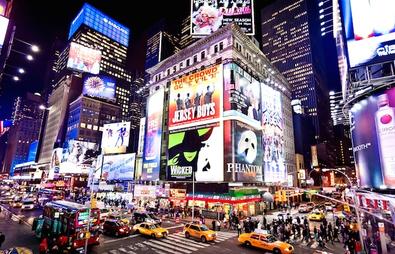 The U.S. government is giving its regards to Broadway in the form of a long sought-after change to the tax benefit program, which will now more closely resemble what already exists in the film and television industries.
For years, much like runaway productions were leaving L.A. for states with higher tax incentives, theater producers were running away to London where the pricetag for mounting a production in the West End is significantly lower and less risky than on Broadway. Now, the theater community is hoping investors will stick to this side of the pond thanks to a bill President Obama signed into law Dec. 18.
Senator Charles Schumer (cousin to Amy) and the Broadway League were front-and-center champions for the bill.
The legislation will see the removal of taxes on "phantom profits," which is capital given back to the investor that totals less than the amount initially invested. Producers will also be able to deduct 100 percent of their investments from their yearly income on the year the investment was made.
This is yet another step in the right direction for a theater business model that has the potential to diversify Broadway producers by opening up the qualified pool. Last year, New York State became the fourth to offer a tax credit of 25 percent to investors who tech their shows in New York facilities.
Despite the still-present risk when it comes to investment in theater productions, productions like "Fun Home" have recouped investments in just eight months, "Hamilton" recouped after becoming a pop culture phenomenon (both are nominated for Grammys in the Best Musical Theater Album categories) and the recent announcement of the Great White Way's 41st house, the Hudson Theatre, coming soon to the district, make it clear that Broadway business is still booming, and this piece of legislation just upped the ante.
Inspired by this post? Check out our theater audition listings!