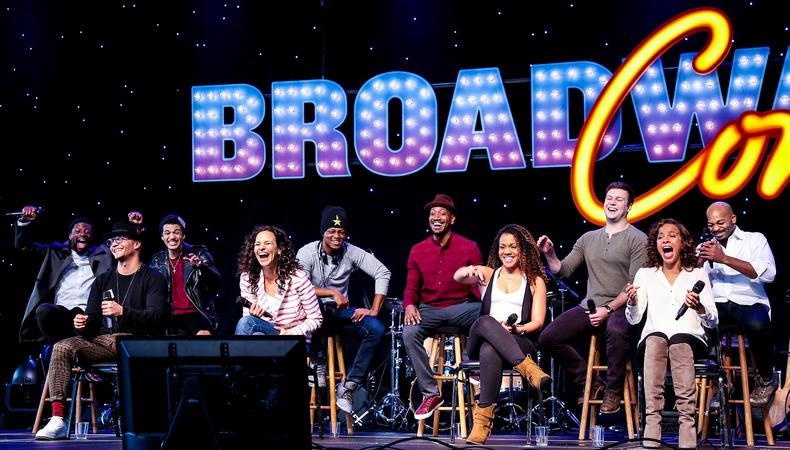 BroadwayCon returned to New York City Jan. 27–29 bigger, better, and brassier for its anticipated second annual outing. (Plus, the weekend remained blizzard-free!)
The three-day conference co-founded by "Rent" star Anthony Rapp, Melissa Anelli, and Stephanie Dornhelm featured thousands of theater die-hards young and old hitting the Javits Center in midtown Manhattan for a weekend of shopping at its musically inclined marketplace, and mingling, singing, and dancing with like-minded "Hamilton" heads. To sweeten the deal, a portion of all proceeds from BroadwayCon were donated to Broadway Cares/Equity Fights AIDS.
The weekend's true highlights, however, came in BroadwayCon's impressive set list of sit-down interviews with Broadway royalty, including Chita Rivera and Joel Grey, long-form conversations with hot-ticket musical casts like "Hamilton" and "Dear Evan Hansen," retrospectives on old favorites like "The Lion King," and panels on how to strengthen the industry's diversity initiatives through casting and hiring behind-the-scenes creatives.
"I signed on to help create this event not only because it is the first convention for theater fans, and not only because it is a singular opportunity to spend quality time with those who love Broadway most, but because this is the convention that this community deserves," Rapp said in a statement. "BroadwayCon was conceived and created by people who live and love theater…. [It is] a way for we who are most passionate about theater to come together to celebrate this beautiful tradition."
BroadwayCon's special singularity was not lost on its esteemed guests, including Tony winner Kelli O'Hara, who described the event as "amazing" and "really positive." She told Backstage that she particularly cherishes and finds inspiration in interacting with young fans with whom she would not generally connect.
"These are uber-fans. They're dressed up, and they've got all your stuff. It reminds me of being a younger person and wanting to be [a part of] something," O'Hara said. "It makes me grateful…. [And] I see some of my colleagues here who inspire me every day. That's really how BroadwayCon affects me."
O'Hara was one of the countless theater stars appreciating the weekend's turnout. But perhaps the greatest surprise came from none other than Lin-Manuel Miranda, who via an unannounced FaceTime call from London fielded questions from "Hamilton" fans. When asked for the advice he had for teen actors looking to pursue their craft in college, Miranda said that the best of students should study all facets of theater, not just acting.
"Study lighting. Do all the things. For my theater major, I did makeup, I ran lights, I did sound design, I sewed costumes. And that stuff comes in incredibly handy when you work with other people," he said. "Theater is all about collaboration, so you have to actually understand a bit of the job your collaborators are doing, so that you can speak to them fluently."
Attendees left the Javits Center on Sunday likely wishing they could stay longer. BroadwayCon is special in that it connects fans and aspiring actors not only with each other, but with those they admire. Sadly, we will all have to wait until next year for a third go, but we're especially excited to see how the conference will top itself once again.
Are you ready to tread these boards? Check out our theater audition listings!