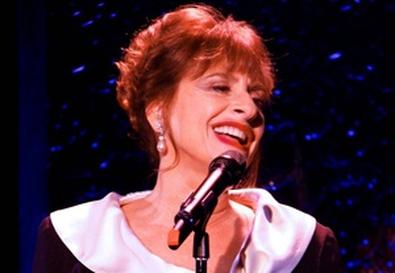 Every now and again there comes an experience that you immediately know you will always remember. That happened for me at Patti LuPone's cabaret evening "Far Away Places," christening the snazzy new nightclub 54 Below, which occupies the basement of Studio 54. LuPone levitated the audience of Broadway insiders in the intimate room, compellingly designed by John Lee Beatty in the style of a 1920s speakeasy, as effortlessly as she might flash one of her sly smiles. It was, simply, magic.
LuPone, of course, is one of our finest stage actors, in both musicals and plays, and the possessor of a powerhouse voice. But what distinguishes her work in cabaret is its spontaneity and interconnectedness, every moment rooted deep in her Sicilian soul. And at 54 Below, with its cozy confines, that means it feels as if the lady is singing directly to you.
Conceiver-director Scott Wittman and LuPone have assembled a fresh and varied list of 15 songs for this 75-minute set structured loosely on the idea of travel, both in the geographical and chronological sense. An early highlight is a terrific "Bilbao Song" (Kurt Weill–Bertolt Brecht), sung with sensual joy as a tribute to the sexy '70s in NYC (which, of course, includes the goings-on in the famous disco that then inhabited the theater above). Frederick Hollander's "Black Market" is deliciously flirtatious, smartly followed by the showstopping "Come to the Supermarket in Old Peking" (Cole Porter), which LuPone builds from a languid cry to a scintillatingly jazzy explosion while never once neglecting the witty lyric. Two comic gems are the Johnny Mercer standard of vengeful regret "I Wanna Be Around" (LuPone deems it "the Sicilian national anthem") and a gloss on Edith Piaf by Bill Burnett and Marguerite Sarlin called "I Regret Everything."
The evening's stunning centerpiece is a narrative song suite fashioned by superb arranger-conductor Joseph Thalken out of three tunes: "Ah, the Sea Is Blue" and "Pirate Jenny," both by Weill and Brecht, which flank Johnny Green and Edward Heyman's "I Cover the Waterfront." LuPone journeys from libidinous to yearning to murderous with thrilling fluidity as Thalken (on piano) and his band—Antony Geralis (accordion and keyboards), Paul Pizzuti (drums), Larry Saltzman (guitar and banjo), Andy Stein (violin and saxophone)—provide expert support.
The star delivers her judicious patter with bite, even sending herself up from time to time, including one hilarious reference to a famous incident with a cell phone during her run of "Gypsy." And though known for her powerful belt, there's some very attractive lighter singing as well. Her "Far Away Places" (Alex Kramer–Joan Whitney) put me in mind of Ethel Merman at Carnegie Hall, in her final concert, singing an arrestingly understated "What I Did for Love" to piano accompaniment as an encore.
As for encores, LuPone did three at the performance attended, one chosen out of tweets from the audience sent prior to the performance and two of her own selection. The audience tweets resulted in a blockbuster rendition of "As Long As He Needs Me" (Lionel Bart), which LuPone sang on Broadway back in 1984 when she played Nancy in a short-lived revival of "Oliver!" LuPone's choices were her sinuous signature number from "Women on the Verge of a Nervous Breakdown," "Invisible" (David Yazbek), and Maxwell Anderson and Weill's "September Song," from "Knickerbocker Holiday," sung using the original, less-known show lyric with uncommon sensitivity as the perfect end of a perfect evening.
54 Below owners Tom Viertel, Richard Frankel, Steven Baruch, and Marc Routh want the club to be a gathering place for the Broadway community. Once the kitchen is up and running (the cold antipasto plate and dessert sample provided to critics were fresh and delicious), I have a hunch that their wish is going to come spectacularly true.
Presented by and at 54 Below, 254 W. 54th St., NYC. June 13–23. Wed. and Thu., 8 p.m.; Fri. and Sat., 8 and 11 p.m. (866) 468-7619 or www.54below.com.