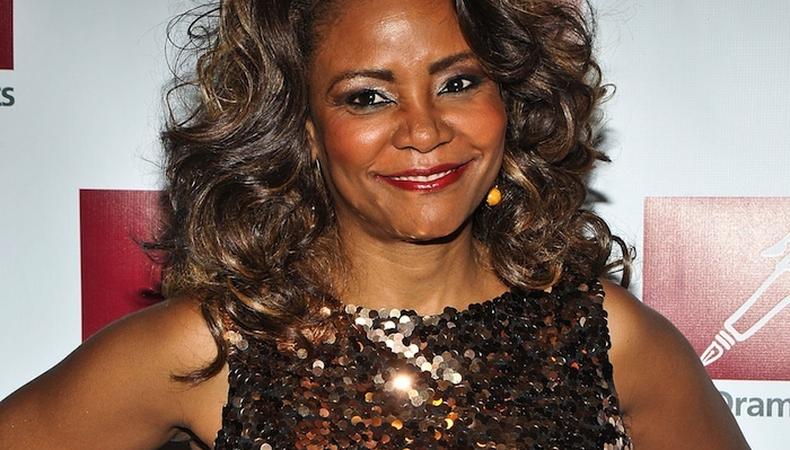 Tonya Pinkins hasn't been in a Broadway musical in a very long time, but that hasn't stopped her from finding ways to keep singing. In fact, she takes every chance she gets to sing.
Debuting "Tonya Pinkins Unplugged" at Joe's Pub this Monday, June 3rd, Pinkins describes her new cabaret outing as a chance to reflect on her forty-year career in show business.
"I get to cast and produce myself and do the numbers I want to do," she says.
She'll be performing songs from shows she's been in, like "Caroline, or Change," shows she never got to do, like "Dreamgirls" and "Company," and songs she's always wanted to sing, like "Rose's Turn."
In between songs, Pinkins will be doling out insights that she gained from her long career, many of which have inspired her to write her book, "Get Over Yourself: How to Drop the Drama and Claim the Life you Deserve," and start teaching "Actorpreneur Attitude" classes, a support group for actors focused on taking on art with a business mindset.
Just Create.
Pinkins is a firm believer that you should never stop creating. "If you're called to this profession, and you love it, and you can't live without doing it," she said, "then you have an obligation to yourself to create."
Her first cabaret was more than thirty years ago, written by longtime collaborator and friend George C. Wolfe. Describing herself as a "big dreamer," Pinkins recalls all the flare and big production numbers she included in her act, using magic and disappearing acts, which left her exhausted.
After a long hiatus, she recently discovered the "daring and dangerous" downtown cabaret circuit, and immersed herself in it, taking risks and accepting invitations to sing everywhere and with everyone, from "Our Hit Parade" to Bridget Everett and Natalie Joy Johnson. "I haven't done a Broadway musical in a really long time so I want to sing as often as I can," Pinkins said.
Find Your Audience.
Thanks to technology, finding an audience has never been easier. "You can find your audience if you just put in the time and the energy," Pinkins says, citing how easy it is to gain a following by posting videos of your work on video-sharing services like Vimeo and YouTube. If you put your work out there, audiences will come. "There's really no excuse not to be an actor right now," she says.
Change Your Attitude.
Pinkins does not buy into the idea that you have to be a name to open on Broadway, pointing to the most recent revival of Edward Albee's "Who's Afraid of Virginia Woolf?" and Bruce Norris' "Clybourne Park" as successful shows without household names in the cast. Pinkins believes that this is a "common fiction that people invent," and actors shouldn't be discouraged by movie stars coming to the Great White Way.
Actors should stop focusing on "always-gotta-be Hollywood" and "always-gotta-be New York and Broadway," Pinkins says, and just take a stronger approach. "The biggest challenge you're gonna have your entire career is to stop thinking of this as something where you get shows, where you have to do something or be somebody to get shows," she says.
Pinkins is drawn to teaching, finding that watching "talent grow" always inspires and excites her. Oftentimes, though, she finds that many talented actors cripple themselves by thinking that their teachers and coaches are "the source" behind certain choices that come out during class.
"The essence of great art is trusting your own instincts," she says, and Pinkins uses every class to build an internal support in her students. Directors, coaches, and teachers "support you and make you feel more comfortable," but the source is your own, she adds.