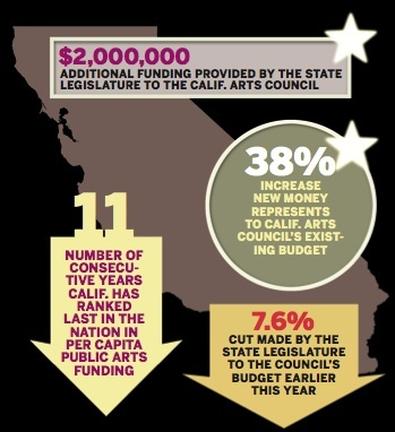 The California Arts Council is flush after a one-time funding boost, and its chairman wants to divert some of the cash to Los Angeles–area theaters.
The council has been on a listening tour of the state after receiving an additional $2 million to allocate to arts groups from the state, courtesy of savings found in the assembly's 2013 operating budget. The last stop on the council's listening tour is July 25 in Costa Mesa.
Theater groups have a powerful ally on the council in Wylie Aitken, an Orange County–based attorney who serves as its chairman. Aitken and his wife, Bette, are longtime supporters of South Coast Repertory and have both served on the Costa Mesa theater's board.
"One of the thoughts that I've been kicking around, and that we've talked about, is funding a joint partnership with one of the theaters or acting groups in Los Angeles to partner with a school—not just have an artist in school but to put on a yearlong curriculum," Aitken told Backstage.
Many Southern California theaters have an educational outreach program. The Center Theatre Group, for instance, hosted the August Wilson In-School Residency Program this year, which included having professional actors work with students and teachers in four local high schools.
Moreover, the Geffen Playhouse has a "Literacy Project," which teaches local 10th graders writing skills and brings them to performances at the Playhouse.
These kinds of programs are crucial, said Aitken, because theater audiences are aging. Drama education could help foster a new generation of theatergoers. "If we don't get theater back into the schools, we're going to find it a very, very tough battle to keep audiences," he said.
Getting funding from the council could also help theaters raise additional money. "I think the most important piece of this is, when you get an arts council grant, it serves as a Good Housekeeping Seal of Approval when applying for other grants," said Terence McFarland, CEO of the LA Stage Alliance, a nonprofit that advocates for Los Angeles–area theaters. "Without it, you're less competitive when trying to raise other dollars."
To get council grants, McFarland suggested theater groups emphasize the public benefit of their programming. "These are public dollars being spent, so when applying you have to make the case for how your art benefits Californians," he said.
The state of California is notoriously stingy about doling out arts funding. The state has ranked last in the country per capita in its arts funding since 2003 and earlier this year cut funding for the council by 7.6 percent, bringing its 2013–2014 budget to just over $5 million.
Aitken said he hoped the one-time infusion of the $2 million will lead to more state funding. "We want to come back with stories that say we turned this $2 million into $20 million worth of benefits," he said. "I really do believe that is a very positive first step."
After the last stop on its listening tour, the council will meet again at the end of the month at a retreat, where it will consider how to allocate the funds. Once a programming decision is made, the council will publish information on how to apply for the funds.