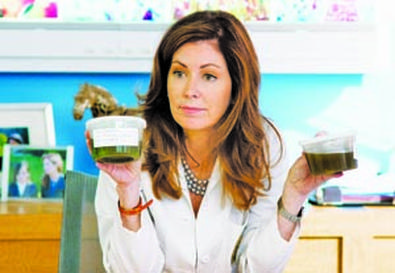 Last month,
ABC
announced that it would move production of its high-rated drama "
Body of Proof
" from Providence, R.I., to Los Angeles. The good news for Angeleno actors was the impending arrival of more job opportunities and a solid blow landed against the ongoing runaway-production trend. The bad news was that this was news at all.
Last year, the number of on-location production days in Los Angeles grew by 15 percent from the year prior. But the year prior saw the lowest number since the recording of production days began in 1994, and the improved 2010 number was still half the all-time high, recorded in 1996. In the past decade, Southern California has become to the film and television industry what Michigan is to the automotive business: still the center, but one that has seen other states lure away significant pieces of its heritage industry with permissive labor laws and gaudy incentive packages.
To combat runaway production, California enacted in 2009 a program offering tax credits to films and TV shows that shoot in the state. When the "Body of Proof" move was announced, the
California Film Commission
confirmed that the series had been approved for a $7 million tax credit—7 percent of the incentive program's 2011 budget. Eight days later, the state Assembly approved a measure that would extend the program by five years. The extension bill passed the Assembly with only one vote against it but faces a tougher road in the state Senate. And with Gov. Jerry Brown clamoring for deep budget cuts in the face of a massive fiscal crisis, the future of a program that many credit with helping to keep California the capital of the entertainment industry is far from certain.
Assemblyman Felipe Fuentes, D-Sylmar, who sponsored the extension, is optimistic. "There was more support than I expected for the bill," Fuentes said. "Now that we've cleared one house, I hope to continue the momentum in the Senate. Once we've got something that's going to leave the Senate, I'll approach the governor's office and hopefully earn their support as well."
Paul Audley is the president of FilmL.A., the private organization that issues shooting permits in Los Angeles and tracks production days. He shares Fuentes' hopeful outlook for the extension's passage, but he's cautious. "The program has demonstrated that it is bringing substantial revenues to the state," Audley said. "The governor has not committed one way or another, but I don't see him saying no to this one, because the evidence is so clear."
Playing Defense
Audley pointed to "Body of Proof" as evidence that California's tax credit program is working. He noted that when other states began offering tax incentives to the industry in the middle of the last decade, California began experiencing a substantial drop in on-location shooting, particularly of feature films.
"It only began to turn the corner two years ago, when California first introduced its film incentives," he said. "Our numbers show that we would have seen a continued drop in feature filming in L.A., which is still below 50 percent of what it was at its height. But every single bit of the small turnaround we've seen has been in films that received the California incentive."
Audley is hardly the only industry proponent to heap praise on tax credits.
The Screen Actors Guild
and the
American Federation of Television and Radio Artists
have lobbied aggressively on behalf of the California extension.
"AFTRA Los Angeles is so pleased that A.B. 1069 has passed the California State Assembly," said William F. Thomas, executive director of AFTRA's Los Angeles local and a member of the FilmL.A. board of directors. "This is all part of AFTRA's effort, together with other unions and guilds, to keep production here in California and the United States. The bill must still make its way through the Senate and be signed by Gov. Brown, and AFTRA's members are hopeful that we will continue to see strong support from our leaders in Sacramento."
Jen Heater, SAG's manager for government affairs and policy, added, "An extension of the production incentive means the continued creation of jobs in California, and SAG will continue to work on legislation like this that positively impacts actors."
But with virtually every state in the union confronting dire budget forecasts, many have questioned the fiscal efficacy of film incentives. In December, the progressive Center on Budget and Policy Priorities issued a study that blasted film tax credits as inefficient and claimed that the bulk of the data cited by supporters was biased and flawed. On June 2, the conservative Tax Foundation issued its own study, which was equally critical.
That study's author, Joseph Henchman, noted that the number of states offering incentives and the amount of money being shelled out by them dropped from 40 and $1.4 billion in 2010 to 37 and $1.3 billion this year. That tally came as states like Michigan and New Mexico moved to place caps on their once-lucrative incentive programs and as pushes to create or expand programs in states such as Nebraska, Nevada, and Oregon fell short. According to Henchman, the popularity of film tax credits is in decline, and with good reason.
"They don't work," he said. "They don't create jobs—at least permanent jobs. They're not effective at creating lasting economic development. And states have better priorities, whether they be using the money for other spending priorities or leaving it with taxpayers. Of course, tight budget times are the driving factor."
Henchman added that he anticipates an even greater decline in incentive programs and dollars offered next year. But he also noted—reluctantly—that when it comes to tax credits, California may be a special case, given that the state is trying to lure back work that used to be done almost exclusively within its borders.
"California is always tricky, because it's sort of a defensive measure," he said. "It's kind of tough for me to say this, but if there was any justification for any state to have a program like this, it might be this one, purely as a defensive move."
Millions vs. Billions
With other states abandoning or limiting their incentive programs, it stands to reason that California will benefit from an extension to its own. But the $100 million annual budget for the Golden State's incentives—which would not increase under the proposed extension—is paltry compared with what can be found elsewhere. Last year, for instance, New York passed a five-year, $2.1 billion extension of its program, more than four times the amount of money California would commit to over the same number of years.
"We don't foresee an increase [in production days] just because some of the other states have dropped out," Audley said. "Our key competitors in Louisiana, Georgia, and New York continue to fund heavily their programs, so we don't really see a major benefit to California yet by virtue of those several states dropping out."
But even the most ardent advocates of film tax credits believe that given the state of the state, California will not up the ante on its incentive program anytime soon. For now, it will settle for holding on to what it has. And though the extension is hardly a done deal, even a hard-core skeptic like Henchman agreed that it will likely pass.
"Unfortunately, I think California makes a lot of bad fiscal choices," he said, "so they'll probably choose to extend it."