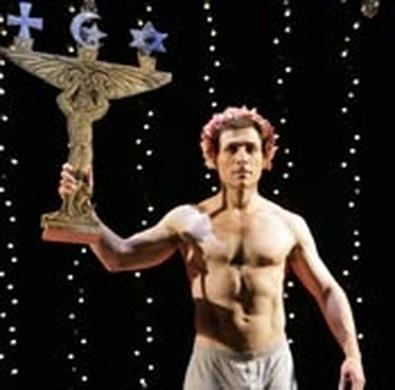 The real Caligula ruled as the third Roman emperor for less than four years — from 37 to 41 A.D., just after Tiberius and just before Claudius — but his debauched lifestyle and depraved approach to power have made him mythic for nearly two millennia. His behavior was in stark contrast to that of his contemporary, Jesus Christ, and provided fodder for a variety of dramatic treatments.
Caligula was a crazed character in the Robert Graves novel I, Claudius, which later became a memorable television series, and positively repellant in the 1980 Penthouse-produced, unambiguously pornographic movie starring Malcolm MacDowell. Albert Camus completed this stage version in 1938 (at the age of 25), although it was first produced in 1945. Camus, in the era of Hitler, concentrated his play on the excesses of evil politics in what he saw as an age of mass indifference. This play is seldom revived.
Here, Rafael De Mussa has directed himself in the title role, reapplying sexual flourishes (mostly simulated fellatio) to a piece that still attempts to be relevant to our age. Setting the production in an unnamed 20th-century country does not make it more of a metaphor for any current government — although Caligula's actions may remind us a bit of Richard Nixon's saying to David Frost, "When the president does it, it isn't illegal." Peter R. Feuchtwanger's striking set reminded me of a Rumanian Communist reception hall, circa 1972, which is also beside the point.
The cast of 13 appropriately consists of mostly very young actors, as Caligula was only 24 on his accession, and his coterie was of an age. A lack of experience is all too evident in most, but a far more serious failing is that the majority of these actors seem to have opaque accents of one kind or another, and they fail to enunciate or project properly. A couple of them even sound as if they have actual speech impediments. Unfortunately, De Mussa is not immune to any of these problems in his own diction, nor has he given much attention to the way the other players speak. A few actors rise above the general narrative muddle to be heard and seen as real characters, notably Ben Geugeon as Helicon, Caligula's most loyal lieutenant; Romy Nordlinger as Caesonia, the emperor's mistress; and Jeff Campanella as the scheming mascot Scipio.
David Greig's translation is accessible but flat and contains far too many jarring British slang phrases, such as "show willing," "give it a go," and "you lot." All told, this production seems much longer than its hour-and-three-quarters running time (with no interval).
Presented by Horizon Theatre Rep at the Kirk Theatre, 410 W. 42nd St., NYC. Dec. 7-30. Thu.-Sat., 8 p.m.; Sun., 3 p.m. (Additional performances Mon., Dec. 22 and 29, and Tue., Dec. 23 and 30, 8 p.m.; no performances Thu., Dec. 25, through Sun., Dec. 28.) (212) 279-4200 or www.ticketcentral.com.