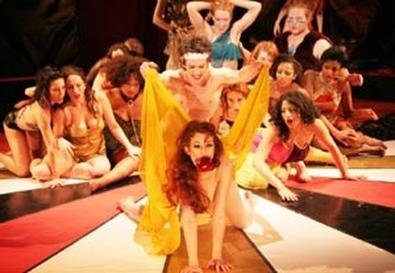 Halfway through our interview, a lithe young woman approaches. "She's a juggler,"
Alfred Preisser
tells me as she gets closer.
"I just wanted to run this by you," she starts anxiously. She wants to know whether she can do a fire-eating bit in the show. "We probably won't get fire permission," she adds, "but... I haven't gotten to eat fire in New York yet."
"We'll talk about it," he reassures her, then looks sparks a satisfied smile. "See what I get to deal with!"
Preisser (pronounced "Pricer") clearly relishes his work. The award-winning director first made a name for himself during nearly ten years at the
Classical Theatre of Harlem
, at which he served as co-founding artistic director (with
Christopher McElroen
).
With productions like "King Lear," "The Trojan Women," "Dream on Monkey Mountain," "
Archbishop Supreme Tartuffe
," and the musical "
Ain't Supposed to Die a Natural Death
" (which won seven
Audelco Awards
, including Best Director), Preisser carved out a reputation for vibrant theatrical storytelling, which,
he recently told an interviewer
, is "a mix of rhetoric, dance and music, physicality and violence... It is about creating a direct connection between the actor, the story, and the audience all the time."
Since he and McElroen's split with CTH in November 2009, Preisser decided that he "wanted to start a new theater that was more personal to me, with more of my own plays and not so described by the qualifiers 'classical' and 'Harlem.'"
He's pursued that vision vigorously. Just in the last few months, he opened a stage version of Melvin Van Peebles' "
Sweet Sweetback's Baadasssss Song
" in Paris, as well as The Working Theater's Off-Broadway production of "Mine Eyes Have Seen the Glory: From Douglass to Deliverance," a one-man show written by and starring his frequent collaborator, actor Andrè De Shields. At the same time, he and
Randy Weiner
(with whom he wrote "Archbishop Supreme Tartuffe") have been developing a new show about the Roman emperor Caligula.
That play, "
Caligula Maximus
," opens tonight at La MaMa's Ellen Stewart Theatre. Set on the "last night of the infamous dictator's life," the production creates a raucous, circus-like atmosphere, reflecting the "very specific pleasurable mess that the United States is."
To achieve that end, Preisser intentionally cast a mix of traditional and non-traditional performers. Led by theater and TV actor
Ryan Knowles
as Caligula, the cast includes adult film star (and "Penthouse" Pet)
Justine Joli
; Lady Circus troupe aerialist
Anya Sapozhnikova
; competitive bodybuilders Myra Adams and Roxanne Edwards; and
Coney Island Sideshow
tattooed muscleman
Tim Dax
. "It was important to have a non-traditional [cast], not really actors, but the people who actually do this." He clear enjoys a challenge.
We sat down with Preisser during rehearsals to talk about "Caligula," what he looks for in an actor, and the importance of theater in a technological age. Here are excerpts from that conversation.
What about Caligula attracted you?
"Caligula," to me, was a way to explore people's impulses, people's hypocrisies (even to themselves), and human nature. It's a big experimental piece about human nature.
Americans love Las Vegas and football and television, and great entertainers like Lady Gaga. We are a Roman-style civilization; we are a polyglot culture. We enjoy combat, sporting events, arena-style shows. We are people of great appetite; we are people of great prerogative. If we want things, we think we have the right to have them.
You co-wrote this project with Randy Weiner.
[Randy] was also the co-writer on "Archbishop Supreme," which we did in the fall. Stylistically it had some similarity to this in that the audience is part of the show, not just breaking the fourth wall or talking to them but actually making them a part of the show as actors.
How long did the process take
?
We wrote this over the course of six or seven months. Then we created this 'mess' and we put the 'mess' into rehearsal. We created the show in rehearsal. We don't really workshop scripts to death over a period of years—we're more interested in writing a show for the stage, and we know we will make the show work for the stage once it's in rehearsal.
We've been in rehearsal for four weeks. It's evolved a tremendous amount. Anya and Jessica and Angela will go out to Brooklyn and work in the Lady Circus space and bring stuff in. Luqman Brown will write music and bring it in and we'll insert it into the show or change it... Every rehearsal we do a lot of editing and script changes, and some of the changes are really significant.
The cast has a wide mix of performer types
.
Was that intentional?
A little over a third of the cast are actors. The rest are dancers, or bodybuilders, or boxers; we have all kinds of people here. I did think it was important to have a non-traditional [cast], not really actors, but the people who actually do this.
For instance, the girl playing Drusilla has a [aerialist] troupe in Brooklyn called Lady Circus, which is one of the most cutting-edge things I've seen... I thought it was great to have her in the theater. She's never done a play before. She's a very good show person, and she knows what it means to put on a show, but her ethic is much more circus than, ok, I just went to acting school and I'm going to play my character. Her discipline is about creating beautiful visual things for an audience to look at and relate to the visual sense.
With all these different disciplines, was there something universal you were able to work with?
We all understand that we're performing—in this universe, the performance is supposed to please the audience. Does the audience get it? Enjoy it? Is this visually pleasurable? Do people get on their feet for this song? Does it work?
As opposed to a Method actor, say, whose first duty is to be true, to find truth. Then that truth is filtered through a director, through a script. The first duty is
not
to make the audience happy, to make the audience like them. I went to acting school. You're taught not to think about the audience. You're taught not to look at yourself—you're taught to find spontaneity in truth.
At this point in my life I'm looking for something that's more presentational and has various elements that come from the world of circus or wrestling or music. I am looking for a different kind of experience.
Have you had to change your approach with performers who are not traditional actors?
No. You're still trying to make something that works and expresses the play. It is a little different. Some of the non-actors have to be directed more tightly, for example, given extremely tight blocking to get on and off the stage.
The body builders need a lot of direction because they've never been on this kind of stage before. Being inside this kind of machine where a scene plays here, then everyone looks there, then something happens and we exit—it's just different.
Have the actors had difficulty working with the circus-type performers, and vice versa?
I haven't noticed that at all. I actually think everyone is fascinated with everyone else. The structure of this show is like a variety act—there's a musical set, a physical set, an act, a scene at the coliseum, then we're all tumbling and feast, so it's like a variety show.
We haven't had traffic jams or worlds collide, not yet. We'll see what happens when we load in, during those days everyone gets tense. So far it's been very upbeat.
What have you learned from working with these performers?
What I've learned from the porn star and the sideshow guy is that they are so committed to being themselves that they really are the most normal people that you could imagine. They're not ridden with angst, they're not desperate because they're not being themselves—they are who they are. They go out in the world and do exactly what they want to do.
Without the trappings of a play or a script, they are doing the same thing that I've been doing the last couple of years—which is to try to create an event that directly connects to the audience at all times.
I think sometimes in theater people forget about the audience, they kind of get off on their own moments. Have you ever seen a completely self-indulgent experience? Like, why am I in the room? Is this for me, or are you just getting off on your technique?
I've seen plays—more than a couple—in which I don't even know why they're in the theater, they're so disconnected from anything that I think that matters or is about any sense of community. They seem to be therapy sessions for the writers and the people who are creating them.
Do you think it's necessary for theater to have contemporary elements?
I think it's necessary for theater to feel like it's happening
now.
Personally, I increasingly feel like theater needs to engage the audience all the time and talk to them about how they're feeling all the time. I'm looking for a more immediate form of theater that blends styles.
What do you look for in a collaborator?
I love working with Randy because we share a sense of fun, of creating for the audience, for tearing down certain forms we find hypocritical or limiting. His sense of creating a show is in step with mine.
Similarly, I love actors with a sense of humor, that are physical, that have a sense of performing. Alexandra Bernard is someone who I met when I was teaching up at City College. She has a phenomenal voice... When you hear Alexander sing, it makes the show better. It connects to the audience.
I love working with
Andre De Shields
. He's a performer's performer. He learned about being an actor in front of an audience, a Broadway audience. I like actors that are open minded, have a sense of humor, aren't overly precious.
Can you see that in a casting session
?
You really can. Sometimes you make mistakes, but I think most people would agree that you'd cast people that you think you'd want to be around for a couple of months, that you connect with, that interest you.
You left Classical Theatre of Harlem in November. Was that a daunting challenge?
No, it was something I had to do in order to keep growing and being myself. The moment of CTH was over for me. I'm not the right person to be doing that anymore.
I wanted to start a new theater that was more personal to me, with more of my own plays, and not so described by the qualifiers 'classical' and 'Harlem.' I think it's better someone else to do that now. I did it for ten, eleven years, and we created some great work.
Do you see a through-line between your work at CTH and now
?
Whether I'm doing "Dream on Monkey Mountain," which was written by a Nobel laureate, or Shakespeare, or one of my own plays, which are much more ragged and idiosyncratic—like "Archbishop"—I'm really looking to lead the audience through the actors' bodies. A lot of music, physicality, a lot of dance, a lot of stuff that I would call populist devices. Those are things that I like.
Was there any one thing that you got out of your years at CTH
?
There are thousands of things. I had the opportunity for ten or eleven years to work on the plays that I wanted to do exactly how I wanted to do them. That's a tremendous gift, to have that kind of run working in theater where you can create the way you want to without very many compromises.
But I think the bigger thing is the people that I met while I was working there, and I'm still working with those folks. Andre is someone that I met in the work up there, and we're going to work together for the foreseeable future. There are people in this show I met up there. I've met wonderful people; those people became what theater is for me.
Do you think theater is more important now because we're surrounded by so much technology?
I'm going to say yes because culturally we are developing a lifestyle where your personal presence is less and less necessary. It's thrilling to create things where people actually have to be in the room with you.
"Caligula Maximus" is showing from March 12th – April 3rd at the Ellen Stewart Theatre (66 East 4th St., NYC). Performances are Thursdays and Fridays at 8pm; Saturdays at 8pm & 10pm. Tickets are $30; $25 for students and seniors, and are available at OvationTix.com or by phone at 866-811-4111. The La MaMa e.t.c. box office is located at 74A E. 4th St., NYC. (between 2nd Ave and The Bowery). For more information, visit http://caligulamaximus.wordpress.com.