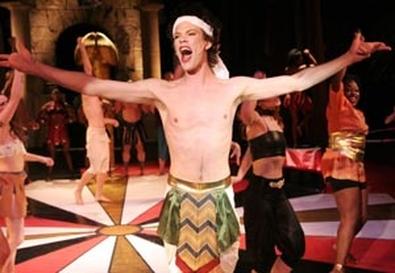 Jesus poses mournfully in the lobby, a topless woman in a Hula-Hoop gyrates in the foyer, a peanut vendor hawks his wares inside the theater—and then the show starts. For the next 75 minutes, the Roman emperor Caligula and 30 actors, dancers, circus performers, professional bodybuilders, and porn stars proceed to sing, dance, wrestle, murder, and float gracefully through the air in "Caligula Maximus," the circus/musical/extravaganza at La MaMa.
The notion behind this exuberantly aberrant piece is that Caligula is hosting a circus for the people of Rome. During its course, we are treated to the highlights and low points of his reign, including the installation of his horse Incitatus as a member of the Senate, his tragic love for his sister Drusilla, and his desire to become the empire's chief deity. But even though Caligula bests Jesus in a wrestling match for that honor, he still cannot thwart the peanut vendor's prophecy that his followers will turn on him before the performance ends.
For all its vibrancy, "Caligula Maximus" is neither slick nor virtuosic. Its songs, dancing, and much of the supporting cast's acting are weak. Often it simply feels underrehearsed. Even so, writer-producer Randy Weiner, one of the creators of "The Donkey Show," and writer-producer-director Alfred Preisser, founding artistic director of the indispensable Classical Theatre of Harlem, manage to slip plenty of provocative ideas into their show's taboo-tickling high jinks.
Their wisest decision is the casting of Ryan Knowles as Caligula. He carries the entire production on his slim shoulders, imbuing the emperor with charisma, intelligence, tenderness, and a sense of irony. Almost as smart is the choice of Luqman Brown to play the peanut vendor. Flying above the set, aerialist Anya Sapozhnikova makes for an ethereal Drusilla. Porn celebrity and former Penthouse Pet Justine Joli fleshes out (literally) Caligula's wife, Caesonia. And I predict that Tim Dax's muscular portrayal of Incitatus will entice more than a few theatergoers into sharing Caligula's equine passion.
The tight five-piece rock band, led by Joe Shavel, is equal to the task of holding the chaotic action together. Evan Collier's set design effectively transforms the Ellen Stewart Theatre into an intimate circus arena, complete with aerialist rigging. And the efforts of "whip consultant" Chris McDaniel produce crackling results.
"Caligula Maximus" is not for everyone. If you like your theater to argue like a grad-school paper, have a pathological dread of being pulled on stage, or look at naked actors and wonder if they ever eat, you will not appreciate this production. But if you like your theater gamy and a bit rough around the edges, "Caligula Maximus" will thoroughly satisfy your desires.
Presented by La MaMa ETC, Hammerstein and Weiner, Christopher McElroen, Alfred Preisser, and Kingsize, USA, at La MaMa ETC, 66 E. Fourth St
.,
NYC. March 19
–
April 17. Thu. and Fri
.,
8 p.m
.;
Sat
.,
8 and 10 p.m
. (
212
)
352-3101
, (
866
)
811-4111, www.theatermania.com, or www.lamama.org
.