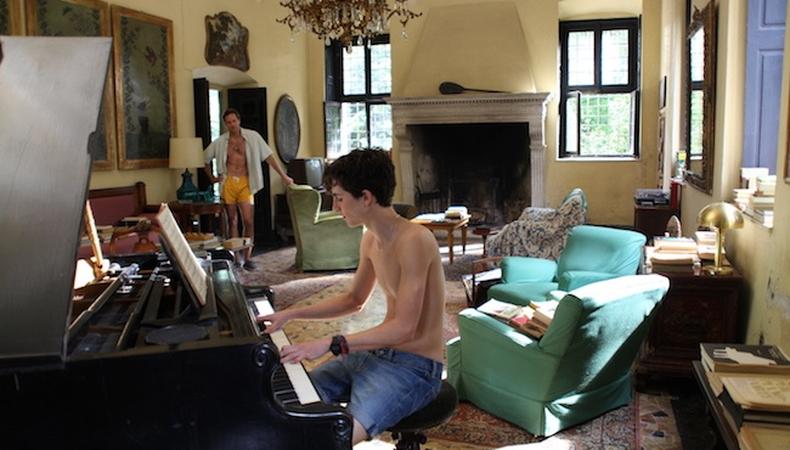 As a producer on the acclaimed potential Oscar contender "Call Me by Your Name," starring Timothée Chalamet, Armie Hammer, and Michael Stuhlbarg, Peter Spears tackled his role with a singular perspective. Using his background in acting, Spears emphasized the importance of a collaborative process, from working with director Luca Guadagnino to scouting locations in Italy. Here, Spears talks his role over the film's 10-year journey, from first reading the novel that inspired the film to the screen.
Discuss your role as producer on "Call Me by Your Name."
I started as an actor. I was always interested in how projects came together beyond my roles, and in being in control of the artistic project from beginning to end—as opposed to the actor who comes into it much later in the process. So when I read this book about 10 years ago, I optioned it and began the process of producing the movie from square one. I'd never put together a big movie like that; it really was a 10-year process. There was a sense of an independent film where you had to attach some actors whose careers were at a certain level to get financing in place. You begin to create a list in your head of the actors you know and like and admire and—having been an actor and been aware of actors' performances—there was a running list of people that if and when we were lucky enough [to have] the movie financed that I'd want to go to for. But the issue with our movie was that that list from 2007, 2008—certainly for the lead roles—a lot of those actors aged out by the time we actually got the movie together in 2016.
What was your involvement with the actors and crew?
I think, from having come from the world of acting, I was always very excited about that part of the process that was bringing on board these unbelievably creative people, to bring what was special about them to the project. And certainly, once we were locked in with the script that we were going to shoot, an actor [interpreting] what was already on the page—you have no idea what that's going to be. That's sort of the magic of collaboration. I think that's a lot of what people have been responding to in Timothée's performance. From the moment we met Timmy, we knew that was the guy for that role, and after that we didn't meet anyone else. Armie has never done a role like this before. Being asked to play a role that required this kind of depth and vulnerability was challenging to him and at first was scary, but then it became the reason he wanted to do it; it was just beautiful what he brought.
What was shooting in Italy like?
It was really an international casting experience all the way down to the woman who plays the housekeeper, who's such wonderful character actor from Italy; every time I see the movie I'm just always amazed at that. From Italy to England to France to America, these actors all converged on this little town in Italy under the direction of Luca, who made everyone feel like it was a family. It felt like we all had stepped back into this time and were having the same sort of summer experience. Each person rose to that experience working with each other and the collective was greater than the individual parts, which is so beautiful. But from the very first table read, it was amazing to see a 10-year journey of thinking about actors who would play these roles, what they were and how it would sound, and then seeing the film all cut together, and the performances forever captured in film.
Did your acting background help you while producing?
Certainly in the development process of the script. I was looking at locations and thinking about budget, but I also read it as an actor. Some [producers] are more business-oriented, which is important, and some come from a more artistic background. Luca himself is a great producer because he understands and knows exactly what he wants in scenes and in locations, and can understand the challenges of some of those creative decisions. The fact that Timmy wanted to come months before shooting to learn Italian, to relearn piano, and to play guitar, someone else—perhaps not understanding the value of that—may have said that we don't have the money for it, but a lot of it is knowing the importance of that kind of preparation for an actor.
Other than the decade it took to get the film to the screen, were there any other challenges that came with making "Call Me by Your Name"?
The challenge of shooting a movie in Italy when you're not Italian. We had French producers and Brazilian producers, Italian producers; all these different cultures coming together in service of this movie and the story and to support Luca in his vision as a filmmaker. It was different from making a movie in Los Angeles for five weeks. [The challenge of the process] was compounded by being halfway around the world and by the worst weather. It was so rainy in Europe that spring and summer. Rome was flooding, the town we were in was flooding. Locations had to be changed due to rain. It was so cold, the actors literally would have ice in their mouths in between takes and spit it out before [we filmed] so you didn't see their breath—even though they're sitting in swimsuits.
What advice would you give actors who may want to expand into directing, writing, or producing?
If that is something you want to do, you should absolutely pursue it. The more you read, the more you write, the more life you live, the more experience you have, the more you have to draw on as a performer. And who knows, one of those things may spark and take your skill off in a new direction as a writer, as a director, as a producer. But you'll always be an actor. Almost everyone I know who was ever an actor who went on to do something else still knows in their heart of hearts that they are and will always be an actor. You'll always look at life the way an actor looks at life. As much as having been an actor made me a better producer, having been a producer, a writer, a director—even on a smaller scale—will only make you a better actor. I actually started devoting more time to [working behind the scenes] and had less time to obsess about what was going on with my acting career. All of a sudden my acting career started to take off in ways that I had hoped it would before. I just let it breathe a little more.
READ: How to Become a Film Director
It's all about perspective in this crazy circus of show business.
At the end of the day, you can wait for the phone to ring, but what did you do to have a life? Especially in Los Angeles with no seasons, time slips by. Sometimes I think we wait as actors. We wait for permission from other people to do what it is that we love to do. I just didn't want to wait for permission anymore. Make your movie, go do it. Don't see the obstacles before you get started—the obstacles will come. Just start and deal with the stuff as it comes. There were a lot of obstacles in the 10 years of making this movie. But we persevered and we continually strove to make the movie we wanted to make.
Check out Backstage's film audition listings!