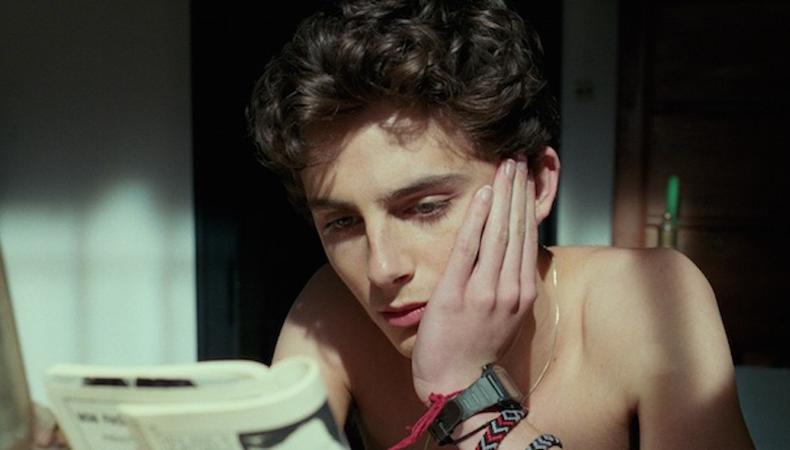 At just 21, New York native Timothée Chalamet is already a longtime working actor. (He tells us here his first credit was a corpse at age 12 on "Law & Order" with Anthony Anderson.) But with a banner 2017 nearly behind him and a prospective Oscar nomination on the horizon, this young talent is on his way to becoming a household name and awards season darling. Chalamet dialed Backstage recently to discuss his big year and how his gay onscreen romance with Armie Hammer in "Call Me by Your Name" taught him to rid his acting of "artificial reaching for moments of interest."
What has the role of Elio in "Call Me by Your Name" added to your acting skills?
Really to just be and the confidence to just be. You know, I did this project called "Hostiles" in New Mexico two months [after "Call Me by Your Name"] with Christian Bale, and that's an actor I've always admired and studied closely. And one of the amazing things I was inspired by on set with him was how little he reaches for moments or interesting behavioral things. And certainly, I would like to hope that with "Call Me by Your Name," I was doing something similar, which is just being and keeping the artificial reaching for moments of interest to a minimum. If I learned anything to take to another set, even in projects I've done since or I'm going to do that are more exposition-oriented, [it is] that I'll still be able to bring on this philosophy of just being and being faithful to the idea that an actor's job, first and foremost—or perhaps in correlation with telling the story—is to do it believably.
READ: Timothée Chalamet Has a Summer Fling in 'Call Me By Your Name'
Have you ever used Backstage in the past?
Listen, I went to LaGuardia High School, so we had our audition technique class where part of the education in how to get an audition was to buy said magazine and to look at the back pages. [Today], when I get on the subway at 23rd Street—I'm almost positive its 23rd Street when you go on the uptown side, [but] that newsstand in that station always has Backstage. When I'm there, I always read it.
How did you get your SAG-AFTRA card?
My SAG-AFTRA card was [for] doing an episode of "Law & Order" in a scene with Anthony Anderson and Jeremy Sisto where I was a dead body on the ground and my throat was slit. I was getting my throat slit in a lot of the first projects I did—I guess that was my type. I was 12; I was in eighth grade. It was the year before I got into LaGuardia.
What advice would you give your 12-year-old self?
I guess it's the general life advice that a lot of people would offer themselves independent of acting or any show business: just to enjoy it more and take it less seriously and be in the moment and worry less about what's to come. It's very tough. I mean, when there's a camera in the room or an audience in the theater, it's a trick to think they're not there. Sometimes if I'm in my head before a take, I'll just like to reach out to the closest thing to me—the wall or a sharp edge—and just push into it. That way, my physical experience is totally contemporaneous and not in the clouds.
What is your worst audition story?
There is an audition floating around somewhere that I did for "Bates Motel." I did it when I was 14 or 15, and I was told this was a young "Psycho." And I went to Netflix, and the first thing that came up for "psycho" was "American Psycho," which is obviously very specific tonally and performance-wise. So there's an audition for "Bates Motel" somewhere that's a Patrick Bateman impression that's way off tonally.
What movie should every actor see?
My favorite kind of acting scenes, or at least where I think people shine the brightest, are odes to Meisner technique scenes where people are face-to-face and it's almost like a repetition exercise. There's an eight-minute sequence in "The Master" by Paul Thomas Anderson. It's the programming sequence, or the "download," rather, where Philip Seymour Hoffman's interrogating Joaquin Phoenix's character. That feels like almost an ode to the Meisner technique in acting and reacting, the pinch and the ouch, not premeditating what you're going to do.
What special skills do you have listed on your résumé?
That's a great question because my mom put together my résumé for awhile, and I used to run into her bedroom going, "Why the—half of these things I can't even do!" I think juggling was on there, chess playing was on there. (I don't know when one's chess abilities would be able to be used well in a film.) Swimming was on there. I mean, you gotta put anything and everything. You never know what's going to resonate with someone.
Ready for the big screen? Check out Backstage's film audition listings!