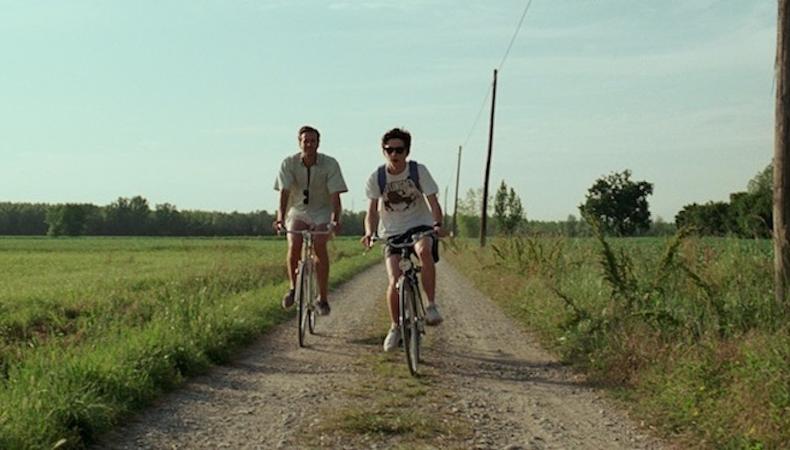 To hear "Call Me by Your Name" stars Timothée Chalamet and Armie Hammer tell it, their first rehearsal with director Luca Guadagnino—and, really, their first time getting to know each other on set—didn't break the ice so much as destroy it. The scene at hand featured their characters, Elio and Oliver, rolling around in each other's arms and making out in the grass of their Italian villa.
In a recent interview with Ellen DeGeneres, Hammer recounted how he and Chalamet shrugged their shoulders, got down on the ground, and began kissing, but Guadagnino soon interrupted them. "Stop—what are you doing? I want you two to make out like you want to make out with each other: passionately!" the director said. "So then we start making out, and then we're making out, and then we're making out, and nobody's saying 'stop,' " Hammer continues. "And all of a sudden we both stop, and we look, and Luca had just walked away. He just left us there rolling around in the grass."
The story, of course, got a lively response from the "Ellen" audience, but it's also indicative of Guadagnino's call on actors to "completely surrender to the movie, to the character, to the camera." There's no room for embarrassment or vanity. He tells Backstage that "often, you find people who can be showing willingness to be engaged, but eventually, they are completely defensive and use technique as a way to disguise their fears or their possibility to commitment." Fortunately, that was never the case for Guadagnino's stars; both Chalamet and Hammer met his call to surrender and turned in a pair of the year's most naturalistic and heartbreaking performances.
One must wonder, though, how the storied director (previously of "I Am Love" and "A Bigger Splash") knew his actors would be up to the task. "Call Me by Your Name" is a sensual, sun-kissed (and now four-time Oscar-nominated) love story that hinges as much on the spark between its two leads as it does on their ability to convey restraint, desire, and a kinetic inner life. Guadagnino trusted his impulse to cast them opposite each other not because of lengthy chemistry reads and screen tests, but because of the immediate connection he felt with them himself.
READ: 'Call Me By Your Name' Gave Timothée Chalamet the Confidence to Just Be
"If I found chemistry in myself with the person I'm casting, I have a sense of there [being] an open door to a level of commitment in their interaction with me that goes deeper than the typical relationship of work," he says. "[It] becomes an amorphous friendship; then I relax. If we are capable of that, then they will be capable of that as performers."
Guadagnino relies, too, on the actor's intelligence and agency ("Directing a movie and directing an actor is a dialogue, not a monologue," he says), as well as the actor's ability to be his authentic self, no matter the circumstances. (He describes Oscar nominee Chalamet, for instance, as being "aware of himself in a way that is completely devoid of narcissism. It was the perfect combination.") But ultimately, he casts actors who are "eager to embark on a journey in which there will be a lot of explorations of interior personalities."
"I believe that a character, a performance, is carved out in a sort of mixture of elements that come from the script, the description of the character, the [directions] of what they have to do in a given scene, but also by how all these elements are reflected in the personality of the person acting," Guadagnino concludes. "You can see into the person apart from the performance. The performance is also the person."
Want to star in an indie film? Check out Backstage's film audition listings!