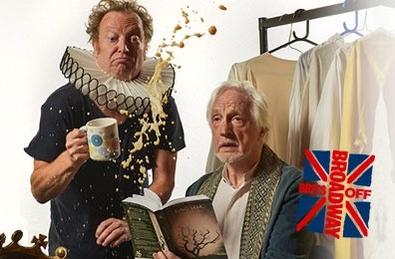 New York City's celebration of eclectic, electric new theater from the U.K. is back, running between now and June 28 at 59E59 Theaters. The 11th annual Brits Off Broadway Festival welcomes some of the most exciting theater artists from the far North of Scotland, down to Plymouth, and many places in between. If you're an Anglophile stuck in a New Yorker's body, check out this year's lineup featuring the best in innovative new British theater.
First up is Anthony Burgess' "One Hand Clapping," a dark comedy about a man with a photographic memory that he uses to win a TV quiz show.
Emmanuel Darley's family drama "Tuesdays at Tesco's," about a transgender woman struggling to connect with her father, features acclaimed actor Simon Callow.
"Cuddles," a stunning debut from young playwright Joseph Wilde, centers on a 13-year-old vampire isolated from the rest of the world.
"In My Father's Words" is a new play about dementia, language, and personal and national identity from Justin Young.
Lastly, "My Perfect Mind," a riff on "King Lear" from director and co-writer Kathryn Hunter, celebrates the resilience of the human spirit—through Shakespeare. For more information on the festival and other goings-on at the Off-Broadway theater, visit 59359.org.