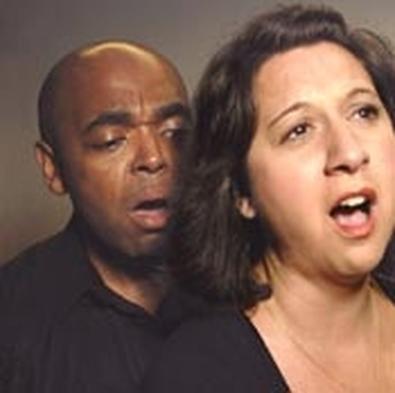 Some of the disbelief, horror, and lingering anxieties that engulfed on-the-scene witnesses to the Sept. 11 destruction of the World Trade Center is poetically evoked in Calling: An Opera of Forgiveness. The 75-minute piece, with libretto and direction by Wickham Boyle, is based on a collection of essays Boyle wrote describing her family's everyday life as residents of the WTC neighborhood during the days after Sept. 11.
Boyle's artfully concise dialogue is heightened by the complex but frequently attractive music of Douglas Geers. Played by a six-person orchestra conducted by Hiroya Miura, the score uses electronic processing with traditional instrumentation.
At the start, a mother sends her daughters off to school as the chorus sings of "blue sky." Then confusion and fear ignite as the twin towers are hit and fall, and the mother rushes to school to take the children home. In the days following, father and daughter try to restore beauty to their neighborhood by placing flowers among the rubble, while workers at the site express dismay at not finding survivors. The family attempts to return to normalcy, with father leaving on a business trip, but mother anxiously reminds him to keep calling. Finally, mother finds release in a yoga class, learning to breathe again, while another class member intones that such release is "for those of us with more hope than hate."
The 11-person cast admirably handles the dramatic and musical demands. As the mother, soprano Nicole Tori delivers an affecting performance, negotiating difficult passages with vocal ease. She's well complemented by the melodious baritone and ingratiating manner of Roland Burks as the father.
Calling eschews the political and economic ramifications of Sept. 11, nor does it mention specifically what caused it. Therefore, the piece never really assumes greatly arresting or momentous dimension. What this opera seems to find forgiveness for is the fact that unpredictable and horrific tragedy can occur. It only skims the surface of what happened that day, but does it with emotional validity, depicting a personal resolution to an unforgettable tragedy.
Presented by La MaMa. E.T.C. in association with City Specials at La MaMa E.T.C., 74A E. Fourth St., NYC. Sept. 12-28. Thu.-Sat., 8 p.m.; Sun., 2:30 and 8 p.m. (212) 352-3101 or (866) 811-4111 or www.theatermania.com or www.lamama.org