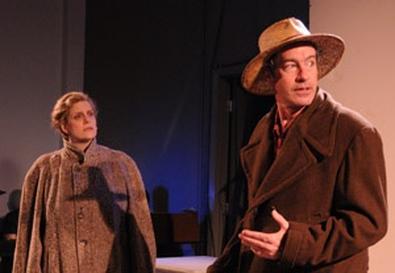 As the country slowly climbs its way out of the recession, more and more people in the arts are turning to the 1930s for inspiration, from Michael Patrick King paying homage to Depression-era escapism with "Sex and the City 2" to the decision by Peculiar Works Project to dust off a nearly 80-year-old college project. But without the pedigree of co-author Hallie Flanagan, famed as the head of the New Deal's four-year Federal Theatre Project (and memorably incarnated by Cherry Jones in the 1999 film "Cradle Will Rock"), there's little reason to excavate this dated play.
An unabashedly Communist-sympathetic work about the disparity between Depression-era farmers and wealthy politicians, "Can You Hear Their Voices?" began its life in 1931 as a Vassar College production (Flanagan was a professor there), and its evocation of dirt-poor farmers is still hard to swallow. Glamorizing poverty so that even as babies starve for milk, farm communities gather together for support (a far grittier portrayal of the same people can be found in Martha Gellhorn's novella collection "The Trouble I've Seen"), "Can You Hear Their Voices?" alternates between a group of farmers struggling to survive and a debutante ball for Harriet, a senator's daughter, whose concern for the downtrodden belies her brittle society ways.
Unfortunately, directors Ralph Lewis and Barry Rowell can't make the play (co-written with Margaret Ellen Clifford and based on a short story by Whittaker Chambers) come fully to life. Part of the problem is its heavy-handedness, but many of this production's shortcomings are directorial. An extended sequence at Harriet's party feels listless and awkwardly improvised, as actors dance uncomfortably and then rush off stage to change costumes. The scene should be lighthearted and bubbly but instead comes across as lugubrious.
The grab-bag cast doesn't help. Tonya Canada nails Harriet's lock-jawed speech but spits out her lines in such rapid-fire succession that she's difficult to understand. As socialist farmers, Christopher Hurt and Catherine Porter give solid performances (though Porter doesn't affect a Russian accent until her final scene), while the rest of the cast is mostly fine, if occasionally miscast, as various farmers and wealthy socialites. Yes, we can hear their voices, but what they're saying is far from remarkable.
Presented by Peculiar Works Project at 2 Great Jones, 2 Great Jones St., NYC. June 6–27. Thu.–Sun., 7 p.m. (212) 352-3101, (866) 8111-4111, or www.theatermania.com.