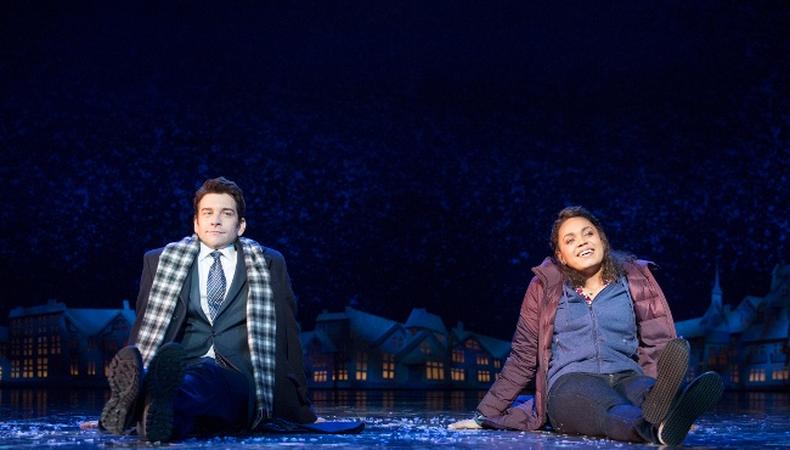 It's not often that a Broadway audience cheers for a single set change, but you will likely be inspired to do just that in the August Wilson Theatre while watching a performance of "Groundhog Day."
At a March 25 preview, the first burst of applause came when Phil, the character made famous by Bill Murray in Harold Ramis' classic 1993 film and played here by two-time Tony nominee Andy Karl, realizes his day-to-day actions hold zero consequence. (The cynical weatherman is inexplicably stuck in a time loop, reliving Groundhog Day in Punxsutawney, Pennsylvania, over and again.) Sitting at the bar with two small-town drunkards, he decides to take his new friends' truck for a spin to kick up some havoc. With the three of them still sitting at their bench, the audience-facing bar splits away and members of the crew stealthily snap two halves of a pickup on either side of them; the truck then appears to zoom and curtail around the stage while a bevy of eye-catching stage illusions shows them speeding and crashing along, eventually getting caught by the police. The audience gasps and claps along the way, delighted.
READ: The Sweet Science of Andy Karl
The man behind the magic? Tony-winning set and costume designer Rob Howell, who reteams on "Groundhog Day" with his "Matilda" lyricist and composer Tim Minchin for the London transfer of their acclaimed stage adaptation. He says that those moments of surprise applause—among a number of other audience reactions—during previews inform the final incarnation of the show on opening night.
"There's a lot that you learn and have to do when you get an audience in," Howell says. "When we go into previews and we start showing what we've done, we understand more how those things that we predicted worked, were true or weren't true, or turned out to be surprising because there's a round of applause that you weren't expecting."
The drunken car chase is one of many scenes employing masterful scenic design and tech wizardry. The story, for one, hinges on the gag of replaying the same day, which creates a challenge for the actors to hit the same marks and speak the same lines with the same intonations—as well as for the company and behind-the-scenes crew to make it work time after time without dulling its effect.
Howell explains over the phone from London that the architectural components of these tricks were first designed two years ago: the rotating stage, the puzzle-piece bed-and-breakfast, the dazzling miniatures. That work is done with the actors' physical presence in mind, but without much direct input. But things like the distance from Phil's bed to the phone to the light switch to his pants to his jacket to his tie—all of which are switched or put on when Phil yet again finds himself in his rented room—are aligned with the actor's personal needs.
"In the detail, we join together and work it out," Howell says, "but two years earlier, I had to get the broad brushstrokes of it right."
Looking to the array of other actors making up the supporting roles and ensemble, Howell says the key to making his scenic work as collaborative and efficient as possible is simple: commitment.
"Moving a piece of scenery or a prop from one part of the stage to another, there's many ways of doing that," he says. "Even though it's a given that it's going to start at Position A and end at Position B, if the ensemble and company and crew make that move as if it was the most natural thing to be doing, then the audience buys into it on a different level than they would if the person wasn't properly connected to moving that thing with meaning. [The company is] being asked to do extraordinary things, unlikely things, surprising things. But if they do it in a way that's committed, the audience won't think it's unlikely or surprising or strange. It's a level of skill from the company that makes these things natural."
Want to dazzle on the New York stage? Check out our Broadway audition listings!