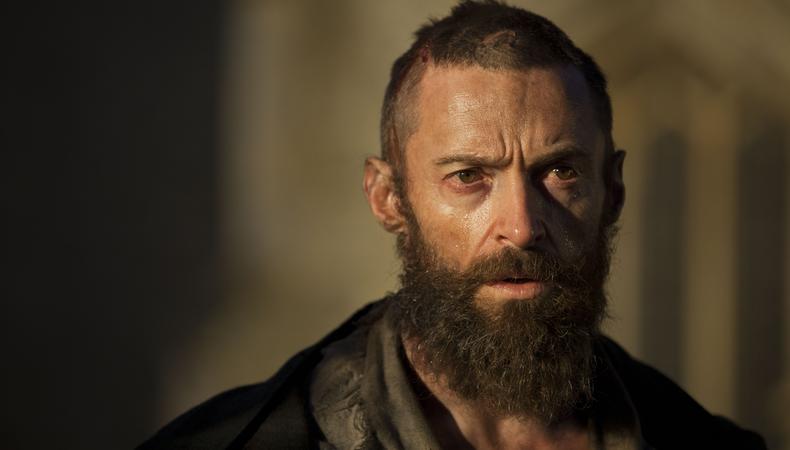 In an Oscar season that has lacked a firm frontrunner and been full of surprises, there have been only two sure things: Anne Hathaway will win best supporting actress and Daniel Day-Lewis will win best actor on the big night. But recent developments have shown us anything can happen. So I'm going to go out on a limb and say it now: Hugh Jackman can beat Daniel Day-Lewis.
I'm not alone in thinking this. Most pundits I speak to say a variation on the same theme. Day-Lewis is a lock, but if anyone can steal it, it's Jackman. Still, it's hard to argue with Day-Lewis in "Lincoln"—he is, as usual, fantastic. Yes, the physical transformation is so remarkable, he looks like he stepped off the penny. And he transcends mere imitation, delivering a powerful, human performance as a husband, a father, and a leader of the country.
But let's not pretend for a second that winning the Oscar is completely about performance. A few reasons why I think Jackman's turn in "Les Misérables" can take it all:
1. Daniel Day-Lewis has won before. Twice, in fact, for "My Left Foot" and "There Will Be Blood." Day-Lewis is also so consistently good, there can be a tendency to take his work for granted. Voters likely believe he will have many more opportunities to win, and doesn't need a third statuette right now. Jackman, on the other hand, has never been nominated and no one can say for sure if he'll get another shot. Which leads us to…
2. Hugh Jackman is beloved. I mean, BELOVED. Watching Jackman at screenings and in interviews (like this great "60 Minutes" piece), I'm reminded of the charm offensive waged last year by Jean Dujardin. You remember him, the dashing foreigner who went on to beat frontrunner George Clooney? Actors love Jackman. In a SAG Q&A last week, I watched Jackman get a standing ovation that went on for nearly three minutes, only ending when he asked the audience to stop. And the Academy loves him too—he even hosted the Oscars in 2009 and was, of course, fantastic. Let's not forget that actors make up the biggest branch of voters. And even people who don't like "Les Misérables" love Jackman.
3. Oh, yeah…Jackman is excellent. Director Tom Hooper said it best when he said that he needed an actor who with star quality who could pull off the singing, the dramatics, and the physicality. "My shortlist rapidly became one person: Hugh Jackman," the director said. Jackman transforms throughout the movie, beginning as a bitter, hardened convict to man of love and faith. He gets the big death scene (unlike Day-Lewis, who dies off-screen.) And that voice! When comparing performances, I often consider whether anyone else could have played the role. That's why I would have voted for Johnny Depp in "Pirates of the Carribbean" the year Sean Penn won for "Mystic River." I know Depp could have pulled off the role in "Mystic River," but can you imagine Penn as Captain Jack Sparrow? There have been many Lincolns, but who else could have played Jean Valjean on screen? Not Day-Lewis. (Anyone remember "Nine"?)
And if nothing else, Jackman managed to keep a straight face while Russell Crowe was singing. Can't we agree the man deserves an Oscar?