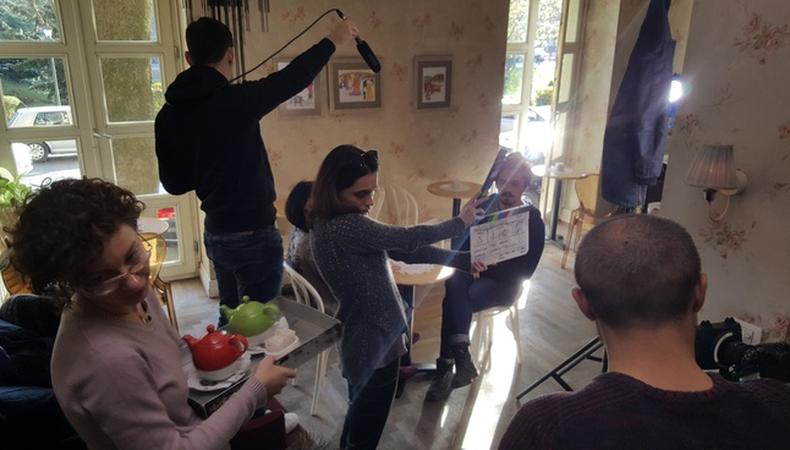 The 48 Hour Film Project empowers filmmakers and actors to collaborate on and complete a film in, as the organization title suggests, 48 hours. Writing, casting, costumes, everything is done during the two-day period. The project gives filmmakers of all experience levels a crash course in being on set and going through the process of making a film from pre- to post-production. On Friday, teams draw a genre out of a hat and are assigned a character, prop, and line that must end up in the seven-minute film. By Sunday night, they've completed their films and the finished products are screened in a local theater.
For people familiar with the months- to years-long process of making some of Hollywood's highest-grossing films, it might seem impossible. However, over the course of its existence, more than 40,000 films have been made as part of the project. Co-founder Liz Langston talked to Backstage about the 48 Hour Film Projects origins and what filmmakers should know, whether they have two days or more to make their project.
How did you and Mark Ruppert begin working together and what sparked the idea to try to make a film in 48 hours?
Mark and I met at a Film Biz Happy Hour in Washington, D.C. I had some scripts and Mark was interested in making a film. We got together and made two short films. The filmmaking process was incredibly invigorating and exciting. We were surrounded by really talented and interesting people and doing something creative that we had never done before.
Then, we wanted to share the excitement of filmmaking. Mark read about a 24-hour play and came up with the idea to try this with filmmaking. To make a long story very short, it worked! Now, more than 40,000 48 Hour Films have been completed. I actually can't believe it myself.
What is the Four Points Film Project?
The Four Points are the four points of the compass. The 4 Points Film Project was originally called the National Film Challenge and was only in the U.S., but now it is an international event. It is the online version of the 48 Hour Film Project.
What were some of the biggest challenges you initially ran into when growing the competition?
There were plenty of challenges, which we can now call learning experiences. One thing we learned was that a time limit is required for the films. In our very first competition, some of the films were almost 15 minutes long. Our current seven-minute limit on the films encourages tight editing, which makes for a better viewing experience.
What is the casting process that you, Mark, and other filmmakers have had to consider when only having 48 hours to make a film?
Our filmmakers find themselves in a strange predicament. They are casting a film that has not yet been written! There are different ways to go about it. One is to start with a fixed group of actors and write for those actors. Another is to audition and recruit actors and ask them to be on call for the weekend, using them as the script dictates. A hybrid approach is to have a few key actors and then call in others as needed.
One of the benefits of making a 48HFP film is that the filmmakers get to meet and work with new actors, forming new bonds and working relationships that translate into new projects outside of the 48HFP.
READ: Actors, It's Time to Find Your Inner Filmmaker
Why is a platform like Backstage good to use when casting a film with a quick turnaround like 48 Hour Film Project films?
Backstage provides an efficient way to reach as many actors as possible, which is obviously a great help in a time-based effort like the 48HFP.
How does one prepare their actors for a role created on such short notice?
Often the director and writers try to let the actors know what the Saturday shoot holds as soon as the film's genre and basic outline have been developed. When possible, actors help with the costuming by bringing lots of options. They are asked to get a good night's sleep because on Saturday morning there is usually an early call time. With only one day to shoot, the day is long and actors must be at their best.
What advice do you give filmmakers to prepare them for success, especially with such a quick turnaround?
Start with the basics. Be sure that you have enough team members to cover the main roles and a few extra people to help. If there is any question about commitment, try to get back up crew. Then, put lots of effort into pre-planning. Don't leave the locations to chance; line up your potential locations and get the release forms signed. Test your gear to make sure that all the borrowed and rented gear play nicely with each other. Work out as many details in advance as possible—food, transportation, parking, wardrobe, access to locations, communication, bathrooms, generators, the editing process, paperwork. One great tip is to find ways to simplify. For example, use only a few locations or make a silent film or one with limited dialogue.
What are some general filmmaking lessons that come into play during a 48 hour filmmaking process?
Teamwork is key. When it doesn't go well they think Well, that was a learning experience. I'm glad I tried this on a weekend shoot instead of a feature. When it does goes well, it's magical. It's "I can't believe that we did so much in such a short time."
Have any big names directed or acted in a 48 Hour Film Project film? If so, who, and how did they become involved?
We've had a number of notable people involved in 48 Hour films. These include Dennis Farina, Penn of Penn and Teller, Damon Runyon ("Gangland Undercover"), Doug Jones ("The Shape of Water," "Hellboy") and Martin Freeman ("The Hobbit" and many more). J.K. Simmons appeared in two National Film Challenge films. In some cases, the filmmakers were friends with these actors, in other cases, the filmmaker reached out on a lark and was pleasantly surprised. Martin Freeman appeared in a London 48HFP Film called "The Girl is Mime," a murder mystery in which he plays a mime accused of killing his wife.
What are memorable performances or examples of great filmmaking you've seen from those competing in 48 Hour Film Project? What made them so great?
Each year we're blown away by the talent that is out there. Even after 17 years, there is something new to discover. Last year, we had a funny film from Melbourne entitled "Foregone Intrusion." It's a Buddy Film with a twist: a burglar and homeowner bond over missing keys. "Jaques Serres," a Parisian film that went on to be named 48HFP Grand Champion is the story of the final day of a feature film shoot. The lead dies trying a stunt, but there are still scenes to be shot. It is an excellent dark comedy.
This post is in partnership with 48 Hour Film Project.
Check out Backstage's short film audition listings!