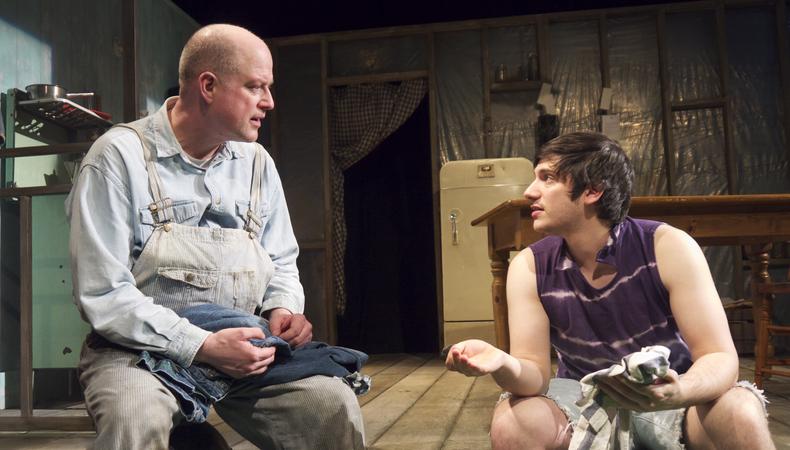 Some plays are explosive, sending avalanches of emotion crashing down on their audiences. Others, such as "The Drawer Boy," currently running at the June Havoc Theatre in a fine Oberon Theatre Ensemble production, roll in like a slow, almost gentle flood. By the time the last of its dark secrets has been revealed, this quietly intense three-character play has painted a portrait of devastating heartbreak leavened by the surprising healing power of theater.
Morgan and Angus live and work peacefully on a farm in rural Ontario, circa 1972. Their tranquility is broken with the arrival of Miles, an actor doing research for a play about farmers and farming. Morgan allows Miles to live on the farm for a couple of weeks provided that Miles work during that time. Miles discovers that Angus is brain-damaged, the result of an injury he sustained in London during World War II. Though he can perform simple tasks such as cooking, Angus cannot remember anything from one moment to the next, causing Miles to have to introduce himself over and over. One night Miles overhears Morgan telling Angus the story of how they met two English girls while in England, brought them back to Ontario after the war, married them, and then lost them both in an automobile accident. Miles incorporates this story into his play, and when Angus sees it in a rehearsal his memory begins to come back; he even remembers Miles' name. Morgan, however, forbids Miles to use the story. As Angus remembers more of his past, including the reason he is called the drawer boy, he becomes anxious and angry. He begs Morgan to tell him the whole truth about his past, and what he learns when Morgan finally complies changes his and Morgan's lives forever.
Playwright Michael Healey depicts his farmers with no hint of condescension, allowing them instead to be as clever and cruel as any of the rest of us. He doesn't give Miles as much dimension, but that's not a major blemish, as Miles is the play's detecelaristive and his function is primarily mechanical. Healy's uncoiling of the play's mystery is masterful, though he is greatly aided in this by the sure-handed direction of Alexander Dinelaris.
William Laney instills Angus with dignity, allowing us to sympathize with him as a human being rather than pity him as a freak. As Morgan, Brad Fryman seethes with repressed passion, and as Miles, Alex Fast provides the play with a lively motor. Rebecca Lord-Surratt's wonderful set manages simultaneously to conjure the confines of a small farmhouse and the vastness of the Canadian prairie.
"The Drawer Boy" won several prizes when it debuted in Canada in 1999, and it's surprising that this production marks its New York premiere. Rather than taking our local theaters to task for overlooking it, however, I prefer to thank the Oberon Theatre Ensemble for finally bringing us this satisfying and moving play.
Presented by the Oberon Theatre Ensemble at the Abingdon Theatre Arts Complex's June Havoc Theatre, 312 W. 36th St., NYC. March 5–23. (212) 352-3101, (866) 811-4111, www.theatermania.com, or www.oberontheatre.org.
Critic's Score: A-