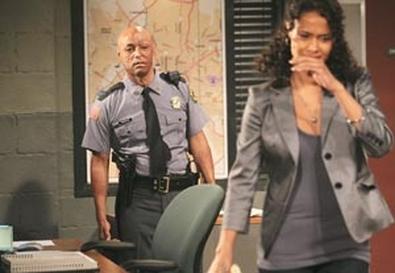 J.R. Martinez was sitting at home at 10 a.m. on April 14 when he received an email telling him to come in to work. For Martinez, the "office" is the Los Angeles–area set of the long-running ABC soap opera "
All My Children
," on which he plays police officer Brot Monroe.
"There were all these rumors, and it put everybody on edge over the last two or three weeks," Martinez said. "Then we get an email from the producers saying, 'If you're in the building, there's a mandatory meeting. If you're outside the building, then if you can, it's important you be here at 11 a.m.' And I looked over to my assistant and I said, 'This cannot be good.' "
Even though he was not scheduled to work that day, Martinez went to the studio and "saw a lot more cars and suits than I normally see." At 11:15 a.m., a teleconference with the casts and crews of "All My Children" and the New York–based "
One Life to Live
" began.
"The president of ABC Daytime, Brian Frons, came out, and the first few words he said were, 'I called Agnes Nixon to thank her for the two shows she's created,' and right off the bat everyone knew," Martinez said. "For what other reason would he call Agnes? Right after that, he followed by saying 'One Life to Live' and 'All My Children' will be canceled."
Frons informed the casts and crews that "All My Children" would continue to air until September. "One Life to Live" will last until January. Martinez looked around the room and saw several of his co-workers already in tears. "All My Children" had just been relocated from New York to Los Angeles the previous year in a cost-saving measure. Now many of the same people who had moved across the country to keep their jobs—Martinez included—had learned they would lose them anyway.
"Even though we'd only been here a year and a half, the people that we met here, the new crew, we developed a bond with them too," Martinez said. "It really is a tight group, and for a lot of people it's like, 'What do you do now?' "
Martinez, 27, joined "All My Children" in November 2008, after the show put out a casting call for a real-life veteran. In February 2003, Martinez was deployed to Iraq, where he sustained severe burns after his vehicle hit a land mine. As his first acting job, he sees "All My Children" as "my kindergarten, my graduation." Despite the cancellation, he said, "a lot of the actors are planning on staying out here"— Martinez included. After months of speculation, he finds some solace in knowing the fate of the show that launched his career.
"Quite honestly, in many other mediums, when do you get four months' notice that your job is going to be discontinued?" he asked. "So in a way, it's almost a blessing in disguise. And at the end of the day, everyone was still hustling and bustling."
According to the actor, as of last Friday, "All My Children" still had a hiatus scheduled for three weeks in July, which was originally "an attempt to keep the budget at a low place." The last shooting date, in August, has not been set.
End of Days
The departure of "All My Children" and "One Life to Live" will leave network television with only four daytime dramas, down from nine just four years ago. Though the remaining soaps appear to be on relatively stable ground for the moment—with CBS having recently renewed "The Young and the Restless" and NBC doing the same with "Days of Our Lives"—many, from network executives to the actors who make their living in daytime drama, have conceded that the format is on its way to the graveyard. Ron Morgan, president of the Los Angeles local of the American Federation of Television and Radio Artists, blames the decline on the shifting economics of TV.
"The numbers of people that are actually watching these shows are still not terrible numbers," Morgan said. "They're not what they once were, but no numbers in television or in film are the numbers that they once were, because our market is much larger now. The biggest problem in scripted dramatic prime time is that it costs a lot more to do this type of work than to do a cheaper talk show, from a production standpoint."
"All My Children" and "One Life to Live" will be replaced by unscripted talk and reality shows. Those new shows, like the soaps they supplant, will be covered by an AFTRA contract. But while Morgan is glad to see that airtime stay union, he notes that the difference between the number of jobs created by a scripted drama and the number created by a talk show is enormous. "Daytime drama and soaps have been the backbone of what AFTRA has been since radio," he said. "I'm seeing thousands of jobs that this is going to cost my members."
On the East Coast, the end of "One Life to Live" will also mark the end of an era. The city that gave birth to the daytime drama in the days of radio and was home to four of them just two years ago will now have none. "It is heartbreaking, but it also is not surprising, unfortunately," said Holter Graham, president of AFTRA's New York local. "I try to look at the bright side to see how many AFTRA members those shows employed over how many years."
Both Graham and Morgan touted the strengths of their respective markets, claiming that the number of television jobs in New York and Los Angeles is higher now than it was just a few years ago. That's important for actors who are now entering the job market after having enjoyed, some for decades, that rarest of luxuries in their industry: full-time work.
"You can't really spend too much time looking at the negative," Graham said. "You just got to do what all performers do: plug away and look for the next job."
Light in the Dark
Former "Guiding Light" star Robert Newman knows about looking for that next job. The actor played Josh Lewis for 25 years on the CBS soap opera, which was canceled in September 2009. Since then, he has focused on "rebranding" himself.
After doing soap operas for nearly 30 years, Newman has been seen on commercials and prime-time shows and in theater productions. He is scheduled to star in Paper Mill Playhouse's upcoming production of the musical "Curtains," which also features Kim Zimmer, who played Newman's wife—half of the supercouple Josh and Reva—on "Guiding Light."
"Though I'm not predicting that the four shows left are going to get canceled, the business model doesn't really work anymore," Newman said. "The economics of television and the way people watch TV have changed dramatically. Do people want to see a story arc for six months? I'm not sure anymore." He believes that the soap genre "is going to come close to dying and then be reborn, as many things have. Game shows and talk shows came back, which we're actually battling, because they're so much cheaper to produce than a soap opera."
As a New Yorker for 30 years, Newman was deeply saddened by the news that there would be no more soaps shot in the city. "They replaced 'Guiding Light,' which employed hundreds of people, with 'Let's Make a Deal,' which they shot at a Las Vegas casino," Newman said. "They didn't replace the soap with something at least comparable in terms of jobs, showing it's harder to stay in New York and make a living as an actor or someone behind the scenes."
But in changing times, Newman sees opportunity for displaced actors young and old: "The triple threat used to be acting, singing, and dancing. Now it's actor, singer, dancer, director, editor, writer, producer, etc. I do find this with the young kids already. My daughter can direct a video with her friends and put it on YouTube."
To actors coming off a soap opera, Newman recommends not trying to re-create what they had on the soap. Rather, he says, "You have to be looking more toward re-creating yourself or rebranding yourself in all of these other areas." He advises his fellow longtime soap actors, "You have to walk in without the expectation that you're going to be treated differently because you're a soap star. A lot of people in other parts of the industry really don't care that you spent 28 years playing a character. They want to know who are you today and what you bring to the role right now."