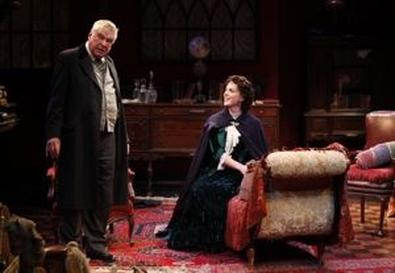 Of all of George Bernard Shaw's many witty and wonderful plays, "Candida" (1898) is revived the least often these days, perhaps because it's best known as a star vehicle for the sort of glamorous dramatic diva that no longer exists. Katharine Cornell—considered, along with Helen Hayes, as one of the first ladies of the American theater in the 1930s and '40s—headlined five Broadway productions of the play, one of which featured the young Marlon Brando as the sensitive poet Marchbanks, before he tackled his polar opposite, the brutish Stanley Kowalski in "A Streetcar Named Desire." Joanne Woodward and Mary Steenburgen starred in revivals for Circle in the Square in 1981 and Roundabout in 1993, respectively. It's a shame we haven't seen this scintillating comedy in New York in more than 15 years. It displays a gentler side of Shaw's razor-sharp mind, as he pits the robust moralistic minister Morrell against the passionate milksop Marchbanks in a battle for the affections of the title character, Morrell's wife. Shaw takes the romantic-triangle plot—the basis for hundreds of hackneyed melodramas—and uses it to consider the true nature of marriage: what women really want from men and vice versa.
Tony Walton has staged a smart and winning revival at the intimate Irish Repertory Theatre. The director, who also designed the elegant set and gorgeous Victorian costumes, makes the best use of the tiny, awkward stage, avoiding traffic jams and blocked sightlines. Richard Pilbrow's masterly lighting adds to the atmosphere, particularly in a cozy scene between Candida and Marchbanks illuminated only by firelight.
Though Melissa Errico is radiant as Candida, this is much more than a star vehicle. Walton has made sure each of the six characters is given equal weight and a full voice in the debate. Errico is an enchanting heroine and ably portrays a beautiful woman who is not content to be seen as a goddess to be worshipped. Ciaran O'Reilly, Irish Rep's producing director, wisely underplays the charismatic Morrell, who can come across as just a blowhard. Likewise, Sam Underwood nimbly steps over the trap of playing Marchbanks as a spoiled child. Both these actors find the attractive men beyond their obvious exteriors, which makes Candida's final choice between them that much more believable and difficult.
Xanthe Elbrick goes far beyond the Miss Grundy spinster stereotype as the repressed typist Prossy. The reliable Brian Murray employs a lifetime of stage experience to vivify Burgess, Candida's father, a wily entrepreneur out to use his son-in-law's connections to full advantage. Josh Grisetti is so deeply in character as the slightly pompous curate Mill that I didn't even recognize him as the same actor who played the lovably nerdy lead in "Enter Laughing: The Musical" last season at the York Theatre Company. They add up to an admirable ensemble for this rarely seen gem.
Presented by and at the Irish Repertory Theatre, 132 W. 22nd St., NYC. March 7–April 25. Wed.–Sat., 8 p.m.; Wed., Sat., and Sun., 3 p.m. (212) 727-2737 or www.irishrep.org. Casting by Deborah Brown.