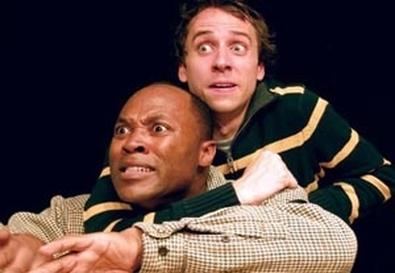 Stanton Wood's updating of Voltaire's novella is trenchant, canny, a series of lacerations directed toward the American right wing. He has a perfect partner in director Edward Elefterion, whose minimalist aesthetic makes you forget that there's no scenery, just Sarah Reeb's quick-witted props, Jamie Roderick's facile lighting, and Michael Tester's guffaw-worthy costumes.
Wood kicks off the journey of Candide (the indelibly wide-eyed Josh Sauerman) in Bosnia, 1992. It may not be the Eden that Voltaire envisioned, or even the Westphalia of the comic operetta, but it's a mighty way to prep the characters—including Pangloss (Arthur Aulisi), Cinnabunsa (Lauren Murphy), Martina (Amanda Broomell), Carlos (Damon Pooser), the Old Woman (Lora Chio), and Paquette (Emily Hartford)—for the hellish circumstances that confront them. Who can resist a Staten Island ferry crash, Sept. 11, Hurricane Katrina, white supremacists, and E. coli?
Is this the best of all possible worlds? Hardly. But this is one of the best possible versions of "Candide" I've seen.
Presented by Rabble Hole Ensemble as part of the New York International Fringe Festival at the Clemente Soto Vélez Cultural and Educational Center's Flamboyán Theater, 107 Suffolk St
.,
NYC. Aug. 19
–
30. Remaining performances
:
Fri
.,
Aug. 28, 9:30 p.m
.;
Sun
.,
Aug. 30, 4:45 p.m
. (
866
)
468-7619 or
www.fringenyc.org
.