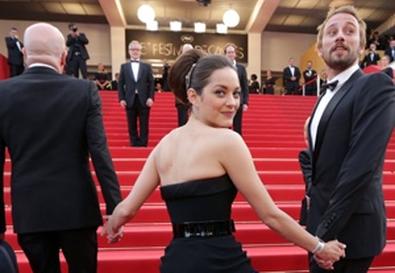 The stars were out yesterday as the Cannes Film Festival entered its second day. Impossible crowds flooded the Croisette, hoping to catch a glimpse of actors Marion Cotillard and Matthias Schoenaerts and director Jacques Audiard ("A Prophet"), who were walking the red carpet for their movie "
Rust & Bone
."
Already creating buzz with critics, the movie is a romance about a woman (Cotillard) who loses her legs in an accident involving a killer whale. The word around the festival is that Cotillard is now a frontrunner for the best actress award for her incredible performance.
At the press conference for the film, Cotillard, known for her work in "Inception," "Midnight in Paris" and "La Vie en Rose," spoke about acting in both French and American movies, saying that she didn't see any major differences. But she added that her role in this film was definitely more challenging, both physically and emotionally.
"I said to Jacques, 'I'm a bit scared. I don't know how this is going to work,' " Cotillard said. "And he said, 'I don't know either.' "
Her co-star Schoenaerts also expressed concerns, but not about the part: He was just nervous to be working with Cotillard.
"I was intimidated," he said at the press conference. "I thought, I'm never going to manage. I'm going to be useless."
Yet whether critics liked the film or not -- some love it, some hate it -- they seem to agree that Shoenaerts ("Bullhead") is this year's answer to Jean Dujardin ("The Artist"), making him the perfect compliment to Cotillard.
Cotillard created waves of approval for her style and poise from the fans on the red carpet, but the festival-goers are creating chaos and impossible gridlocks elsewhere around the Cote d'Azure. Walking anywhere is practically impossible, as herds of people stop to take photos, pitch movie ideas over the phone, and shout in foreign languages at their friends, who are caught behind more people doing exactly the same thing.
The vibe is fun though, and as night descends on Cannes, everyone immediately turns into immaculately presented penguins and Barbie dolls in their tuxedos and cocktail dresses, ready to party the night away.
I was able to attend a private party at Magic Garden meets Le Baron, the club at the Palais -- but the real raging happened at the VIP Room at the JW Marriott hotel in the wee hours of the morning, when LMFAO unexpectedly took the stage.
Back-up dancers poured shots of Patron and Grey Goose from the bottle into the mouths of willing girls and boys, while singer Redfoo shuffled around in leopard print. As you may have predicted, champagne showers followed, and absolutely nobody in the crowd was "sorry for party rocking."
Apparently unwilling to be left out by movie stars, musical acts are increasingly flocking to Cannes this year. Lana Del Ray walked the red steps at the opening night gala for "Moonrise Kingdom," and Beth Ditto from the indie rock band Gossip kissed her partner on the red carpet of "Rust & Bone."
Music with my movies? I think this might be the start of something beautiful.

Keep up with all the fun at the Cannes Film Festival by checking out my daily reports on BackStage.com, and follow @BackStageCast on Twitter for live updates.