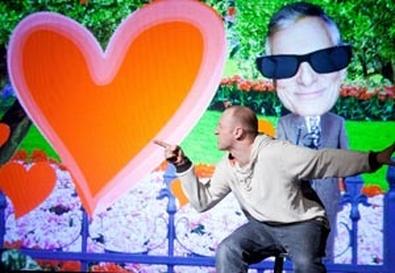 When Baba Brinkman asked his audience to recite the first lines of Geoffrey Chaucer's "The Canterbury Tales," it was the first time that my somewhat useless knowledge from a college medieval literature class came in handy. However, I didn't put my Middle English on display, as I was probably the only attendee who knew the lines and didn't want to kill Brinkman's joke. However, this unusual skill gives me an appreciation for Brinkman's translation of three of Chaucer's tales, as well as the epics of Gilgamesh and Beowulf, from Middle English to the hip-hop lexicon.
Known for his "Rap Guide to Evolution," Brinkman begins with a semi-pedantic riff about the history of storytelling and uses teaching moments throughout as transitions between tales. While the explanations do help the understanding of each piece, Brinkman has translated these works so well that the need for explanation sometimes feels extraneous. His introduction to the final installment, "Beowulf," explores his hesitation to interpret the piece because literary scholars (or "purists") and entertainment seekers (or "tourists") have conflicting ideas of what the story should be. Nevertheless, he handles his version well, employing famed Irish translator Seamus Heaney's approach of translating what the language meant, not the literal words. So "hwaet," which is the precursor of our word "what," here becomes "yo," because "hwaet" was the middle-English term for calling attention to begin an oral narrative.
What Brinkman presents is primarily a study of how language has evolved from medieval English to gangster rap. He maintains the essence of Chaucer's stories and storytelling itself in a fresh way, and his diction and timing capture the Middle Ages' anachronisms and idiosyncrasies in a way that effortlessly interprets them for a modern audience.
Erik Pearson's comic and effective projection designs complement every tale. (They are a particular highlight when images of Scarlett Johansson, Matt Damon, and Hugh Hefner star in "The Merchant's Tale.") Jamie Simmonds, known professionally as Mr. Simmonds, DJs the entire evening with his "turntablism" and excerpts of popular hip-hop artists: "A jolly wench in every town" becomes Ludacris' "Hoes in different area codes." Topical references to Occupy Wall Street, Herman Cain, Penn State, and other current events pepper the work, giving it a farcical relevance to today's society in the same way that Chaucer provided social commentary with his writing.
Brinkman draws impressive and seemingly obvious parallels between ancient storytelling and hip-hop, and his translation is practically seamless. Sure, his approach is not conventional, but if rap gets people to the theater and interested in ancient historical works, I'm all for it.
Presented by and at SoHo Playhouse, 15 Vandam St., NYC. Dec. 4–Feb. 5. Tue.–Sat., 7:30 p.m.; Sat. and Sun., 3 p.m. (No performance Tue., Dec. 6 and 13.) (212) 352-3101, (866) 811-4111, www.theatermania.com, or www.sohoplayhouse.com.