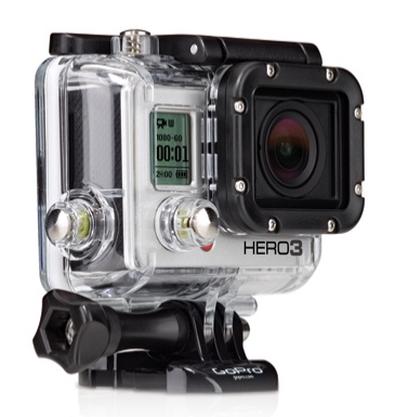 What It Is
GoPro Hero3 Black Edition
What It Does
Heavy-duty action camcorder with lots of features.
Where to Buy It
http://gopro.com/cameras/hd-hero3-black-edition
What It Costs
$399.99
Why hold back your creativity just because your camcorder (or, worse yet, your phone) isn't as rugged as you are? Yes, of course, whenever you're making a video to show yourself off, your talents are important. But if you really want to show what you can do, where you can go, and just what all that money for your gym membership has bought you, you're going to need a little bit of help. And the GoPro Hero3 Black Edition could be it.
Compared with previous GoPro cameras, the Hero3 is 30 percent smaller, 25 percent lighter, twice as powerful when shooting video, and three times as fast when snapping still photos. And in addition to being designed to withstand all the usual bumps and tumbles of life on the edge, it's also waterproof up to 197 feet. Because the Hero3 is also compatible with all of GoPro's mounts, you can attach it to your body, your helmet, your vehicle, and lots of other places—making the options as to what you can record and where almost limitless.
You don't have to sacrifice output quality to get these features, either. The Hero3's six-element aspherical lens, which is helpfully encased in water-resistant housing, has been designed to reduce distortion, and provide wide, medium, or narrow field of views depending on your preference.
The 12-megapixel still camera boasts twice the low-light capability of previous GoPros, and a Continuous Photo mode lets you snap three, five, or 10 photos per second. You can also record video in a variety of formats up to and including 1080p60, for the biggest, sharpest video you can conceive of. The Hero3 even supports higher-than-HD resolutions: 2K at 30fps (frames per second) and 4K at 15fps. These modes may not result in the smoothest video you've ever seen, but they're options you can't currently find on any similar camcorder.
In addition, a redesigned audio system better captures sounds of all sorts, while improved wind-noise reduction helps the camera focus in on only what you want to hear. Built-in Wi-Fi lets you control recordings from afar, even with your smartphone, and the included remote for activating the feature is waterproof and wearable—just like the camera itself. You'll need to supply your own storage, but the Hero3 supports class 10 microSD cards up to 64GB in capacity, so you likely won't have to worry about running out of space.
Running $399.99, the Hero3 is not inexpensive. But if you want to capture your life and your dreams in ways you never thought possible, and show them to the world in all their original glory, that $400 could be a small price to pay.