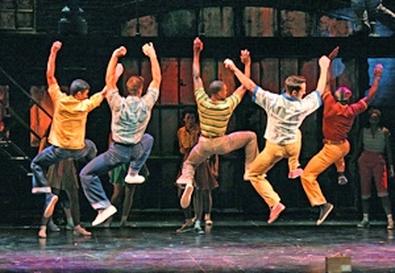 "I decided to take a risk. I didn't want to be a slave to the dance forms of the period," says Sergio Trujillo, choreographer of the new Broadway musical "Memphis," a celebration of rock 'n' roll's roots in the rhythm and blues (then called "race music") of 1950s Memphis. Speaking on the phone from Chicago, where he is working on the choreography for his next project, the Broadway-bound musical "The Addams Family," Trujillo explains, "I felt it was important for me to consider a younger audience and to make the choreography cool and hip and interesting and fresh for them, and also to push myself as a choreographer to come up with my own signature."
Though decidedly a period piece, "Memphis" required little additional research on Trujillo's part, because over the past eight years he has become somewhat of a specialist in rock 'n' roll dances of the '50s and '60s. He did extensive research—studying photographs, watching Hollywood films of the era, viewing television programs such as "American Bandstand" and "Hullabaloo"—when he was hired to choreograph the 2001 West End musical "Peggy Sue Got Married," for which he created numbers based on popular '50s and '60s social dances. He continued his research and worked further with those same period dances in the choreography he devised for Broadway's Elvis Presley–inspired musical "All Shook Up" in 2005 and "Jersey Boys" the following year. Having studied swing dance when he performed in the 1992 TV movie "Stompin' at the Savoy," Trujillo was also well-versed in different styles of the jitterbug, which was the dance people did to the early rock music of the '50s.
"So when it came time to do 'Memphis,' I had all the ammunition I needed," Trujillo explains. "What I tried to do was not to replicate what was done back then, but take all the information and come up with my own formula, my own vocabulary, which is a take on all the different dance styles of that time. And it was also important for me to make the choreography very soulful and very funky, in order to match the show's musical score. If I had just re-created the dances exactly the way they were done back then, the choreography wouldn't have worked with the show's music, which has a very fresh, hip quality to it. The score is a take on that period of music, but it also takes in everything we've learned from then until now."
Trujillo claims that people who were around in the '50s will not recognize a lot of exact dance steps from the period in his "Memphis" choreography. "But they will certainly recognize the feel of the dancing and the music," he says. "The choreography is very apropos to the period and pays homage to it, but for me it was more about capturing the feel than particular dance movements."
Choreography as Plot
In the making of "Memphis," Trujillo was instrumental in determining where some of the dance numbers would occur within the larger narrative structure of the work. In describing how he made those determinations, he cites the old musical theater adage "When you can't say it, you sing it. And when you can't sing it, you dance it." Trujillo considers a choreographer to be one of the writers of a show, since the goal of the dances is to convey information about character or plot. As an example, he cites a number in "Memphis" in which the lead character, Huey Calhoun, is trying to convince a store owner that he can make more money by selling "race records." Trujillo's task was to make visible through dance movement the idea that selling such records would indeed prove lucrative.
"What happens in the dance is that the owner exits, and when he returns he finds mayhem, as all the customers in the store have been so incredibly infected with the race music that's being played," Trujillo says. "The song lyrics don't actually describe that, so as a choreographer you realize there's a plot point which needs to be supported through dance. My job was to show that every customer in that department store had become so excited by the music—it took over their feet, their body, their legs—that they couldn't wait to buy the records."
As the social dances of the '50s, like virtually all American social dances, stem from African-American culture, Trujillo's biggest challenge in "Memphis" was "to get the white kids to dance like black kids," he says. He draws a parallel between what was going on in the '50s and the hip-hop dancing of today. In each instance, a dance form invented by African Americans, in reflection of their cultural experiences, was quickly adopted and enthusiastically performed by young people all over the world.
"The 1950s was a very important time period in America, and I'm lucky I've been able to revisit it over and over again," Trujillo says. "It was a time when young people were trying to find their own new way of expressing themselves. And what resulted—early rock 'n' roll—was a real expression of teenage rebellion and the spirit of youth, which is why I think the dancing and music in 'Memphis,' even though it's very nostalgic, is something young audiences can really relate to."
"Memphis" is playing in an open run at the Shubert Theatre, 225 W. 44th St., NYC. (212) 239-6200, (800) 432-7250, or www.telecharge.com.