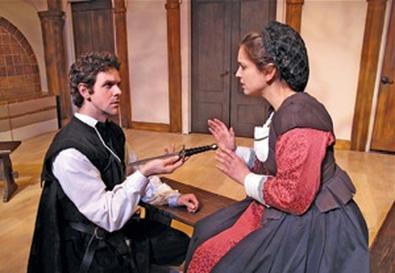 Sometimes the most complex art gives the feeling of breezy ease. In a way it's a shame that, while we're watching this blissfully charming production, we don't think of the work that went into it. The likely reasons are the expert hands that polished every element and the way those hands cared about the audience's experience without underestimating said audience, so we see more product and less ego.
The charm begins with Dakin Matthews' translation of Lope de Vega's script, itself based on the source material Shakespeare used for his play. This version is less "Romeo & Juliet" and more "Romeo & Ethyl the Pirate's Daughter," full of humor as old as language. Matthews writes in rhyming verse, the meter allowing four stressed beats and any number of unstressed per line, which itself tickles the brain.
Directed by Anne McNaughton, the actors revel in the verse while speaking truth in every word. Her staging is completely straightforward, symmetry included, and yet it feels fresh and vibrant. Much of that is due to the depth of her bench: There are no small actors, and the younger generation matches the elder in skill and stage savvy. Michael C. Cook's set is utile and pleasing, and Dean Cameron's Spanish-renaissance costumes are a glory to behold.
Still, this is a story of Romeo and Juliet as we know those characters. Headlining the cast, Benny Wills' Romeo is a happy mix of handsome and hilarious, while Nicol Zanzarella-Giacalone is luminous and yet a sturdy match for him, the stalwart some scholars say Juliet is. Romeo's servant is given a lively portrayal by Bruce Green; Juliet's servant is given a cheery limning by Etta Devine.
The cast members who pull double duty do so with a droll touch while never losing facility for the text. John Apicella can't quite hide behind a variety of mustaches, but he still runs away with his various commedia-infused father roles. Brett Colbeth nicely underplays a romantic Benvolio, then wittily stops by as occasional others. Kellie Matteson's daughterly characters show beauty and strength. R. Scott Thompson plays a petulant first cousin and inappropriate—in several ways—suitor to Juliet, then Thompson steps into the stronger and more likely suitor Paris.
And though there's telling and not showing in this version, and though the characters are stock and the play's upshot lacks the emotional heft of Shakespeare's recounting, the all-around excellence of the work on this stage make this a should-see production.
Presented by Andak Stage Company at New Place Studio Theatre, 10950 Peach Grove St., North Hollywood. Jan. 29–Feb. 27. Fri., 8 p.m.; Sat. 2 & 8 p.m.; Sun., 2 p.m. (866) 811-4111. www.andak.org.