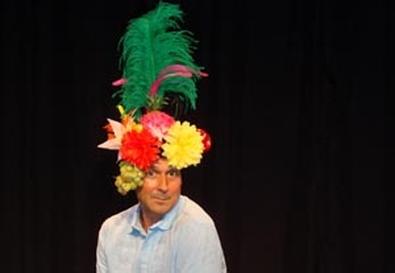 Watching actor-playwright Jay Alvarez perform in "Be Careful! The Sharks Will Eat You!," you may be fooled into thinking that it's not a solo show at all, but a stage filled with a large and vibrant company of actors giving their all in telling how Alvarez's family escaped from their native Cuba and Fidel Castro's oppressive regime. With seemingly bottomless reserves of passion and skill, Alvarez fully and instantaneously transforms from one character to another: his own self as a frightened 4-and-a-half-year-old boy tucked into a boat in the dark of night, his heroic and loving father, worried mother, obstinate grandmother, and a slew of others.
Developed and sensitively directed by Theresa Gambacorta, the piece has been performed in various venues over the past year, but Alvarez's storytelling resonates with heartfelt immediacy, as does his love of country and family. His script has been cannily crafted to build suspense. It's not until the final episodes that we learn in detail of the immense courage and intelligence it took for his father to plan the escape. Augmented by Kelly Ericson Harnett's sound and Ellen Rosenberg's lighting, this is one hour of totally compelling theater. It will blow away any reservations you might have about seeing yet another one-person show.
Presented by My Last Penny Productions as part of the New York International Fringe Festival at the Studio @ Cherry Lane Theatre, 38 Commerce St., NYC. Aug. 17–26. Remaining performances: Thu., Aug. 18, 8:15 p.m.; Sat., Aug. 20, 2 p.m.; Sun., Aug. 21, 6:30 p.m.; Wed., Aug. 24, 6:30 p.m.; Fri., Aug. 26, 10 p.m. (866) 468-7619 or www.fringenyc.org.