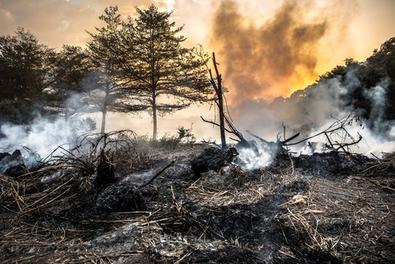 There's nothing quite like the smell of a campfire, that is unless it's the result of a wildfire. While there are many good tips on keeping safe and staying out of harm's way when a wildfire comes to town, there is little talk of how the smoke, even smoke that's blown in from hundreds of miles away, can impact working voice professionals, specifically the performer's vocal folds and respiratory system.
With wildfires blazing in Idaho, Colorado, Arizona, Washington and California to name a handful of states, it would seem that now is the time to talk about vocal health.
For those living outside the immediate area, there are things you can do to help minimize the impact of the smoke and poor air quality on the vocal folds. One thing you should do normally, and certainly increase in times such as these, is hydration. Drinking plenty of water and breathing humidified air is one way that Brian Rollins keeps his voice in shape, even as wildfires rage where he lives in Denver, Colorado. Rollins relates, "I'm in Denver and [recently] the entire city smelled like a campfire. Thankfully, the fire season's been a bit shorter (though no less damaging)."
In addition to lots of water, voice artist Karyn Donahue recommends drinking Throat Coat tea or tea with honey and lemon. Donahue uses an Albuterol inhaler if necessary. If she has to be outside, Donahue highly recommends wearing a medical mask, adding, "My voice is already deep enough, I end up being able to able to do a fair imitation of Harvey Fierstein."
Laci Morgan, a voice talent who has experienced many a wildfire in the part of the country where she lives, finds that a Neti rinse helps to alleviate her sinuses. Many voice professionals use a nasal rinse of some sort, a number of them favouring the Neti Pot, to drain their sinuses in order to speak more clearly and comfortably when managing allergies and irritants.
Although wildfires aren't burning near Morgan at present, others are having to evacuate and stay with family and friends for a few days. For most people, evacuating and still being able to work effectively don't go together. For a voice over professional, however, having a mobile recording studio could make the difference between downtime and business as (somewhat) usual. Maintaining good relationships with professional recording studios in the surrounding area as well as reserving emergency sessions in the home recording studios of fellow voice artist are a couple more ways voice talent can remain productive in the midst of an evacuation.
Stephanie Ciccarelli is one of the most connected people in voice overs, a sought after expert and trusted industry source. In 2003, she co-founded Voices.com and has been actively engaged in the voice acting community ever since. Stephanie graduated with a Bachelor of Musical Arts from the Don Wright Faculty of Music at the University of Western Ontario. Recently, she authored Voice Acting For Dummies, Wiley 2013.
Source: Voice Over Times
For more, visit www.voiceovertimes.com.