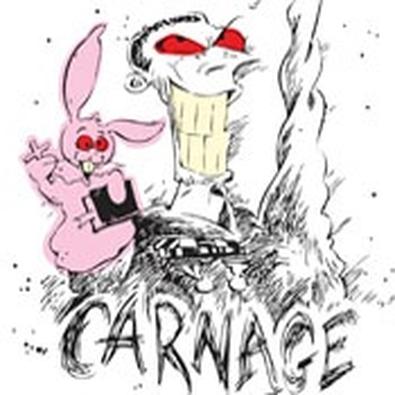 The Actors' Gang revives its pitch-black 1987 comedy by Tim Robbins and Adam Simon. Regardless of one's political beliefs, the play's themes of global warfare, powerful religious organizations wielding strong political and military influence, and fears of an impending apocalypse are very much in our contemporary consciousness. Yet director Beth F. Milles' revisit to this two-decades-old piece never feels as resonant or coherent as one expects. Robbins and Simon's shrill burlesque is initially quite funny. It becomes angrier and bleaker but not more revelatory as it plays out, ultimately overstating the obvious.
It centers on a fanatic religious organization headed by lunatic huckster Cotton Slocum (V.J. Foster), more a conniving showman than a man of faith. He parlays his carnivallike televangelism broadcasts into personal fame and fortune, eventually leading his sheepish followers into a foolhardy pilgrimage. The highly engaging first act does for religious zealotry what Chicago did for media canonization of criminals -- juxtaposing a scathing portrait of corruption and amorality against the razzle-dazzle trappings of show business. Things turn surreal -- and confusing -- in the second act, which is bogged down with overlong and repetitive pontifications. The early momentum is dissipated in a long night's journey into overkill.
Foster's frantic tomfoolery as the Energizer Bunny of evangelists is simultaneously sidesplitting and terrifying. It's not surprising that the actor sweated profusely during the performance; the physical and vocal energy he puts into his portrayal is astonishing. Effectively contrasting his approach is Donna Jo Thorndale's more subdued take as Slocum's dutiful wife Tipper, part Tammy Faye Baker and part Doris Day; her plastered-on smile is almost as frightening as Foster's deranged rantings. Other fine contributions among the superb ensemble come from Justin Zsebe as a ruthless evangelist-in-training, Chris Schultz as a morally confused U.S. soldier, Laurent Oppelt as a wheelchair-bound follower seeking a religious epiphany, and Lindsley Allen and Scott Harris as sappy performers dishing out hilariously ludicrous shtick during the broadcasts.
Original underscore music and cleverly satiric songs by David Robbins (with additional material composed by Cameron Dye for this revival) are welcome ingredients, smashingly performed by an onstage combo. Design elements are stylish and effective.
Presented by the Actors' Gang at the Ivy Substation,
9070 Venice Blvd., Venice.
Thu.-Sat. 8 p.m., Sun. 3 p.m. Feb. 2-Mar. 29.
(310) 838-4264. www.theactorsgang.com.