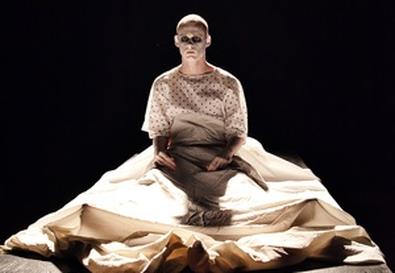 Comedies don't come much darker than Diana Amsterdam's "Carnival Round the Central Figure," a hard-core but justified lampooning of the strange etiquette we adhere to when watching loved ones pass away. Amsterdam's relentless script, which premiered in a student production 16 years ago, makes a glib burlesque out of the oblique religious platitudes, idle chitchat, and straight-up dishonesty we typically inflict upon the dying. Director Karen Kohlhaas has jauntily pieced IRT's current production together, and though the play's intense ruminations on the end of life can get very bleak, it makes a touching case for, as Sigmund Freud said, making friends with the necessity of dying.
The central figure of the title is a 38-year-old terminally ill accountant named Paul, whose wife, Sheila, can weather his deterioration only by blatantly ignoring it. Christine Rowan plays Sheila with chipper vehemence, as she goes on endlessly about Paul leaving the hospital, the new appliances they will soon buy, and how Paul, portrayed by Ted Caine as little more than an ashen-faced corpse, will finally have time for his art. Amsterdam mostly renders Sheila's tragic avoidance through callused humor, but she brings the pathos—and boy does she bring it—to the forefront in a visit by one of Paul's co-workers, Kate, a young woman who has had an intimate experience with death. Kate, both strident and sensitive, thanks to Danni Simon's performance, urges Sheila to stop lying to Paul about his condition.
Kohlhaas' staging maintains much momentum when the play flashes back to a strange part of Kate's past: an exuberant televangelist show called "Speak Straight to Jesus," which features a frenzied choir and the jolly Shane LeCocq in a stock oily-preacher role. Sheila's obsession with cleaning the kitchen tile also informs a silly but whimsically entertaining theatrical frill that Kohlhaas employs. After Kate stresses that people cannot be scrubbed of bad things like tiles can, a pack of black-masked lackeys with linoleum squares attached to their heads continually lurks about the stage.
Presented by and at IRT, 154 Christopher St., NYC. Jan. 17–30. Mon., Thu., and Fri., 7 p.m.; Sat., 3 and 7 p.m.; Sun., 5 p.m. (212) 352-3101, (866) 811-4111, www.theatermania.com, or www.irttheater.org.