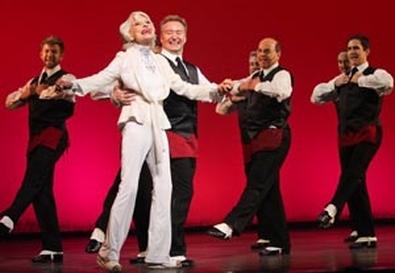 Director Dori Berinstein ("Show Business," "Gotta Dance") has not made a standard show-biz biographical film with "Carol Channing: Larger Than Life." Instead, she's made one of the most touching love stories the screen has seen in a long time. It is given special poignancy knowing that the other person in that love story unexpectedly passed away just one month before the film's opening.
Berinstein skillfully weaves the 90-year-old Channing's legendary career in and out of the moving personal story of how she finally found true love with her soul mate, Harry Kullijian, 65 years after the junior high school sweethearts broke up. Kullijian died the day after Christmas at age 91, but the couple had nearly a decade together, and the film serves not only as a testament to Channing's remarkably enduring career but also to the special relationship that made the past decade the happiest in her life.
Despite its bittersweet feel now, Berinstein's film manages to get right to the heart of this vibrant veteran, covering her childhood and first go-round with Harry through her emergence as an actor and unique star to her greatest Broadway triumphs, in "Gentlemen Prefer Blondes" and "Hello, Dolly!," her Oscar-nominated role in "Thoroughly Modern Millie," stage and TV appearances with greats like George Burns, and her unhappy 42-year marriage to Arthur Lowe, whose controlling force as manager first and husband second took its toll on Channing, bringing sadness to her offstage life. An interview about the last with a tearful Debbie Reynolds, who experienced similar spousal betrayal, is particularly heartbreaking.
Above all, Berinstein, who describes herself as Carol's number one fan, knows she has a great raconteur as her subject, and she lets Channing—and many of her colleagues, seen in on-camera interviews—rip with riveting stories of her show-biz successes and failures, her remarkable impressions of those she has worked with, and the zest for life and complete professionalism that has marked her entire career.
"Larger Than Life" also lifts the veil on the creative process in fascinating ways, particularly in the story told by interviewee Jerry Herman and Channing about how "Dolly" was rescued from a disastrous out-of-town tryout. The invention of the signature song "Before The Parade Passes By," which was quickly written and added during the show's pre-Broadway run in Detroit, makes for a remarkable story as told by these two old pros and director-choreographer Gower Champion's ex-wife, Marge. There is also a choice moment from the ever gracious and politically correct Channing when asked about her feelings on hearing that Barbra Streisand had swooped in at the last moment and won the title role in the screen version, even though Channing says she was virtually signed to play it.
Shot over the course of a year and a half on locations in New York, San Francisco, Los Angeles, Tennessee, Kentucky, and Channing's home in Palm Springs, you really feel you get to know this iconic star. More important, you come to love her all over again. "Carol Channing: Larger Than Life" may not be the warts-and-all portrait some hard-core critics might want (the marriage to Lowe is given short shrift), but it doesn't need to be. This is a love letter to a born star and living legend that will make you laugh, cry, and be thankful that the great Channing is still here among us, which is where, just like Dolly Gallagher Levi, she belongs.
Genre: Documentary
Directed by Dori Berinstein
Written by Berinstein and Adam Zucker