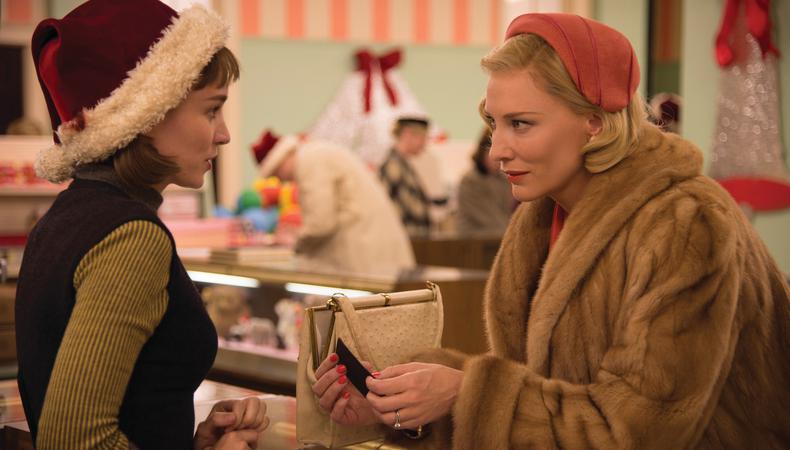 Phyllis Nagy felt more pressure than the usual screenwriter to get her latest script, a film adaptation of the novel "Carol," right.
"We used to write to each other every week," she says of her close friend and the source material's late author Patricia Highsmith. "I guess [those were] the days when people still wrote actual letters."
The two met in New York in the late '80s and kept in close correspondence after Nagy moved to London (Highsmith resided in Switzerland) until Highsmith's 1995 death. Nagy says that despite the weighty responsibility of adapting a friend's work, the prospect of her taking on Highsmith's novels (which include "Strangers on a Train" and "The Talented Mr. Ripley") was regularly discussed.
"We talked about it fairly frequently," Nagy, herself a seasoned playwright, says. "It was a daunting thought because she didn't very much like any of the adaptations of her work that she'd seen. And it really wasn't high on my list." The task remained at the bottom of her bucket list until Nagy read "Carol" five years after Highsmith's passing. Laced with the author's trademark sexual and emotional distress, the writer was inspired to reimagine it for the screen.
The '50s-set, Todd Haynes–directed romance, which was originally published in 1952 as "The Price of Salt" under the pseudonym Claire Morgan, is a sweeping, heartbreaking story of girl-meets-woman. Academy Award winner Cate Blanchett is the titular woman, a middle-aged, upper-class mother and soon-to-be divorcée who falls for Rooney Mara's Therese, a young department store clerk and aspiring photographer.
Sparks fly upon their first meeting, but unlike straight counterparts of the same era—Joe and Princess Ann of "Roman Holiday," Don and Kathy of "Singin' in the Rain"—their love is reduced to restrained longing, fear, and guilt. Affections are cautiously excavated through calculated inflections and things unsaid.
Tapering her script's dialogue to these restrictions was something in which Nagy found particular pleasure.
"That was the easiest thing of all!" Nagy says. "For me, the use of subtext—especially in dialogue—is really the basis of any good dramatic writing. The typical overexplication of things does not interest me."
The film needed, then, the perfect pair of talents to bring nuance to these stifled desires. To that end, Blanchett and Mara do not disappoint, saying more with body language and facial expression in Nagy's negative space than any explicit profession of love could. Nagy says that Haynes—who came on after "Brooklyn" director John Crowley dropped out—is as much to credit for this success.
"I think that's the miracle of this movie: that it actually survived so many years without being asked to have a big speech about being gay or that kind of thing. That's a testament to Todd and everyone involved," she says. "[Todd and I] were always on the same page."
It is while on a road trip midway through "Carol" that our lovers finally consummate their passions. Though it may seem they are doomed from the start, Nagy has more than a few surprises up her sleeve that are as emotionally gratifying and—as she says of the film's mid–20th-century setting—"reckless" and "radical" as anything this year.
So does it make for an adaptation of which Highsmith would be proud?
"I don't know that she would have approved of it," Nagy concedes with a sigh. "I know that she would love certain things about it. The tone of her book and how she resists easy psychological traps for her protagonists—all of that's been really well preserved. I hope she would've liked it. I guess we'll never know."
Inspired by this post? Check out our film audition listings!