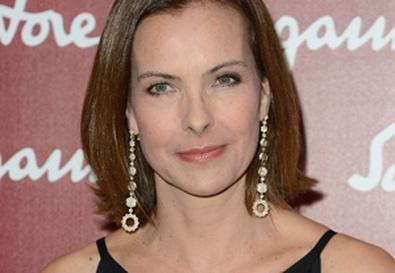 For American audiences, French beauty Carole Bouquet might still be best known as "Bond girl" Melina Havelock in the Roger Moore film "For Your Eyes Only." But over the course of her 35-year acting and modeling career, beginning as a teenager in Luis Bunuel's "That Obscure Object of Desire," Bouquet has established herself as one of France's most respected leading ladies. She's appeared in more than 50 films and earned two César Award nominations, winning one for her role in "Too Beautiful for You" opposite Gérard Depardieu (with whom she was romantically linked for over a decade).

In her latest film, "Unforgivable," Bouquet plays Judith, an enigmatic former model-turned-real estate agent who moves to Venice and marries her client, a successful novelist (André Dussolier). When her new husband finds that happiness hinders his writing, however, he hires a young man to investigate her and sets in motion a multi-layered drama that examines love, fidelity, guilt, and the consequences of unresolved past secrets.

Bouquet says she was drawn to the film because of her desire to work with director André Téchiné ("Wild Reeds," "The Girl on the Train"). "I would have done any movie with him," she says. "I think he's one of the masters of movie-making. We knew each other but until then, there was nothing we could have done together. I was very nervous when I got the script, thinking, 'I just hope I'm going to like it, because I want to work with him.' It's one of the best memories I have of movies that I made, to tell you the truth."

Back Stage spoke to Bouquet about the challenges of acting abroad, why the characters she plays on screen bear no resemblance to real life, and how Harvey Weinstein is a hero for foreign films.

Back Stage: I feel like I should apologize on behalf of American audiences for not having seen most of your best work.

Carole Bouquet: That's normal. I know, it's the same story everywhere in the world. People have to identify with their own stories, with their own lives, so a movie belongs to a country and to a culture. Sometimes we can share, but it's very rare.

[Harvey Weinstein] has been huge for not only French movies, but for English movies and European movies. I remember having a discussion with him years ago. He did buy the rights to a movie I was in, "Grosse Fatigue." We had a long, long argument, and I discovered he knew movies extremely well. I didn't know that and I should have shut my mouth. I thought he didn't know anything about European movies. But he went on, giving me a lecture about every movie made in France and Europe since silent movies.

It went on until 5 o'clock in the morning, because I was arguing with him about "Grosse Fatigue" and I said, "You're buying it and what are you going to do with it? You don't know anything about French movies." And he said, "OK, you want to play that game?" And I swear, he could be the head of the Cinémathèque in Paris. It's true.
Backstage: Do you think that playing a French woman living in Italy, coupled with your ability to speak Italian, will help "Unforgivable" appeal to a wider international audience?
Bouquet: No, no. It's very personal. It has nothing to do with the audience. You don't think about the effect on people. You do your best, period.
Of course when I started, it's not because I was such a brilliant actress. I didn't know I was good. I thought I was really bad. I was very shy. I was 18 and dreaming of becoming an actress. I go to the Conservatoire d'Art Dramatique, then I do a test with [director Luis] Bunuel and I do the movie ["That Obscure Object of Desire" in 1977]. So life decided very quickly for me, and I was learning it almost as I was doing it. Ask somebody to jump off a cliff without a parachute, and you say, "Yes! I'll do it!" So I was extremely scared.

After Bunuel, I came over to do a movie with Richard Hell called "Blank Generation," and I stayed nine months in New York.

But moving to New York or Hollywood was never part of your career plan?
The plan was absolutely not to be in America. I knew that I had to go back to my own country and speak my own language if I wanted to get better and if I wanted to get good parts, because it is extremely difficult to act in a foreign language or to be good in a foreign language. If you are completely bilingual from the beginning, that's something else. But otherwise you have to translate, which is a very difficult thing to do.

Acting is not about telling your own story. It's telling stories to others, which is not supposed to be yours at all, contrary to interviews. Nowadays we do a lot of interviews, and it seems that it's the biggest part of our job, which it's not! Acting is our job, not talking about it. In France, they know me like I belong to their family. I go somewhere and I feel like I'm sometimes the aunt, the grandmother, the mother, the sister. They all know me. But it's not supposed to be that way.

Back Stage: But most actors will say that they bring something of themselves to every role. You're telling someone else's story to an audience, but there is always at least some part of you in it.

Bouquet: You have to. The better you get, you shouldn't be scared of yourself. Of course, acting, you do it with your own body, your own mind, and your own voice. That's the whole recipe. And when you do it well, people think that's you on screen, which is the best compliment. It's limited for every actor at the beginning, because directors are exactly like the public: They identify you with what they see on the screen.

In "Grosse Fatigue," I was playing an actress called "Carole Bouquet" in the movie, and people – even from my own business – would come see me and say, "I didn't know you had a house in the south of France," or "I didn't know you had such a car." I said, "That's a character in the movie! Hey, wake up! It's not me!," again and again.

It's like a kitchen, acting. Put a chef in a kitchen and they will have different recipes. Whatever your recipe, what works for you won't work for another.

"Unforgivable" opens Friday, June 29 in New York and L.A.