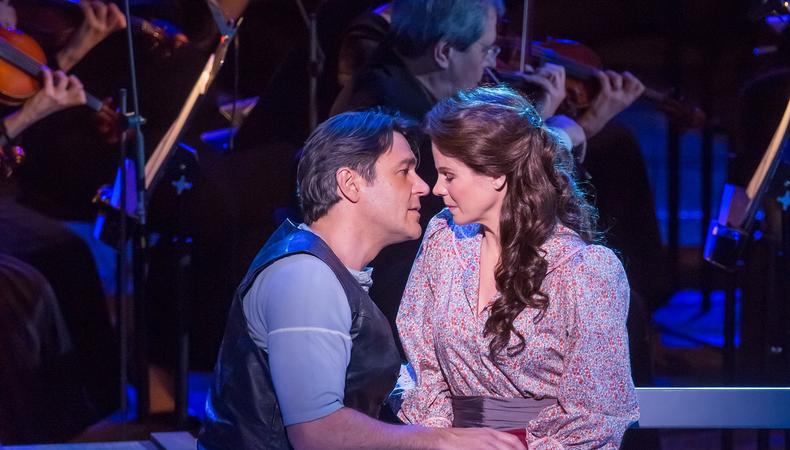 Perhaps it's foolish to hope for strong acting in a concert presentation of a musical, especially one being produced by a classical orchestra. Nevertheless, director Lonny Price proved it could be done in his 2011 concert of "Company" for the New York Philharmonic. Now that organization has turned its attention to the Richard Rodgers and Oscar Hammerstein II masterpiece "Carousel." Director John Rando, alas, has not been able to work the same magic. Yes, the evening is rife with soaring voices and lush orchestral sounds, but the drama remains absent. When I don't shed a single tear at "Carousel," something is amiss.
Based on Ferenc Molnar's expressionistic drama "Liliom," "Carousel" tells the tragic story of carnival barker Billy Bigelow and his ill-fated marriage to New England millworker Julie Jordan, balanced against the comic romance of Julie's best friend, Carrie Pipperidge, and ambitious fisherman Enoch Snow. The casting of opera star Nathan Gunn as Billy seemed like a natural, especially after his terrific turn as Lancelot in Price's concert version of Alan Jay Lerner and Frederick Loewe's "Camelot," also for the Phil. Gunn, however, appears to have no understanding that the foundation of Billy's character is a crippling insecurity and roiling anger at the way life has treated him. Instead, he plays a generalized swaggering masculinity and falls back on his booming baritone. His rendition of the iconic "Soliloquy" is utterly devoid of subtext. Broadway star Kelli O'Hara is one of the finest singing actors we've got, but her innate maturity and sophistication aren't helpful for the very young and naive Julie. O'Hara opts for an understated simplicity that is never false, but Julie stubbornly refuses to emerge. O'Hara's best moment comes in a gently resigned "What's the Use of Wond'rin'?"
As Enoch, Jason Danieley has been encouraged to pursue an exaggerated comic caricature, in both his acting and some awfully plummy singing. Opera diva Stephanie Blythe, as Julie's cousin Nettie, hits one relentless note of heartiness. When Nettie sings "You'll Never Walk Alone" to Julie after Billy's suicide, there's insufficient anguish in Blythe's polished vocal. The heroine of the evening is Jessie Mueller, as Carrie. Despite needing to co-exist with a production that has scrubbed out every bit of sexuality and emotional darkness it can, Mueller manages to be fresh, spontaneous, and genuine. Her "Mr. Snow" is a delight. As Jigger Craigin, the rough ex-con who leads Billy astray, Shuler Hensley also happily slips the surly bonds of cuteness.
Tiler Peck and Robert Fairchild dance Warren Carlyle's Act 2 beach ballet, detailing the unhappy life of Billy's 15-year-old daughter, with sensitivity and panache. In two nonsinging roles, Kate Burton excessively italicizes Mrs. Mullin, Billy's boss and sometime lover, but John Cullum mixes folksiness and gravitas effectively as the Starkeeper.
Rob Fisher's conducting is confident but rather square, and perhaps that's the point. The audience at Avery Fisher Hall received "Carousel" rapturously, even interrupting the legendary bench scene twice for applause, which of course damages its dramatic impact. The Phil may just be giving its patrons what they want. For my money, though, the production drowns the show in syrup and blows nearly 70 years of dust right back on it.
Presented by the New York Philharmonic at Avery Fisher Hall, 132 W. 65th Street, NYC. Feb. 27–March 2. (212) 875-5656 or www.nyphil.org. Casting by Binder Casting.
Critic's Score: C-