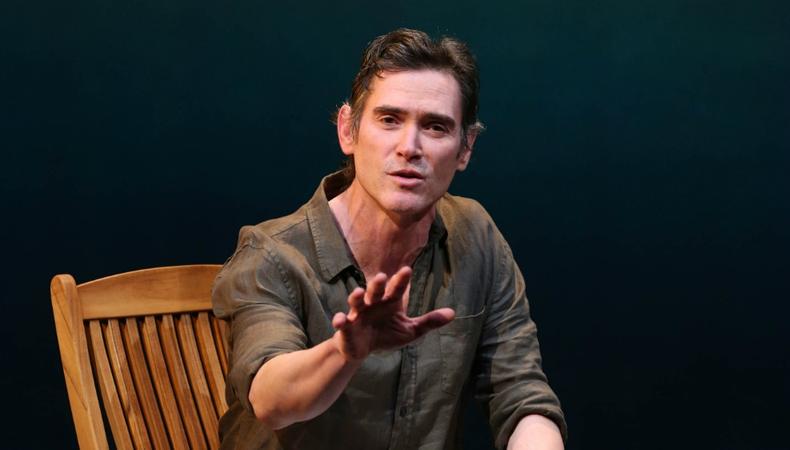 "You gave up financial security and normal working hours just to have the chance to tell the truth," John Leguizamo said in his opening remarks as host of the 2018 Obie Awards. "So when it gets hard, when you're between gigs, when you're last on your agent's call sheet, remind yourself as I do: It's worth it."
Such was the theme of the evening at the ceremony on May 21, held at Terminal 5 in Midtown Manhattan and honoring the year's achievements in Off-Broadway theater. Actors and creative talent both new and established took home prizes at what's considered the theater industry's most unconventional awards show, in which categories nor nominees are pre-announced.
A number of winners across practices used their acceptance speeches as a platform to acknowledge the many intrinsic sacrifices of a life in the theater, and to celebrate the ways in which that sacrifice pays off.
"Like many of us, I know what it's like. I couldn't get work for 15 months before this," said Denise Gough, accepting an Obie for her performance early last season in the St. Ann's Warehouse production of "People, Places & Things." Gough, also currently nominated for a 2018 Tony Award for her role in the Broadway revival of "Angels in America," added that the play indelibly changed both her career and life. "This play was a spiritual experience for me as only great theater can be and I hope to god I get to do it again—even though it kills me."
Accepting an Obie for her titular portrayal in New York Theatre Workshop's production of "Mary Jane," about a mother caring for her terminally sick child, Carrie Coon expressed gratitude for the difficult subject matter theater is willing to tackle, particularly Off-Broadway.
"I think what's important about what we're doing in the theater is, sometimes we're afraid to have conversations about things we don't understand and situations that make us uncomfortable and death, and so we don't have those conversations," said Coon. "What's amazing about Amy [Herzog]'s play is that she teaches us our growth is more important than our fear, and that we have to risk being imperfect in those conversations in order to grow."
Among the other big winners of the evening were Billy Crudup for his one-man tour de force "Harry Clarke," "Admissions" star Jessica Hecht, and Robert Sean Leonard for his role in Signature Theatre Company's production of Edward Albee's "At Home at the Zoo."
On the creative front, Herzog and Anne Kauffman were honored for their writing and direction of "Mary Jane," respectively, as was Aleshea Harris in the playwriting category for Soho Rep's "Is God Is," and Jesse Berger for his direction of Red Bull Theater's "The Government Inspector."
The Obie Awards are presented by the Village Voice and the American Theatre Wing. The 2018 judging panel included longtime Voice critic Michael Feingold, Tony-nominated actor Arian Moayed, and theater critic Charles Isherwood. For more information as well as a full list of winners, head to obieawards.com.
Want to win an Obie someday? Check out Backstage's theater audition listings!