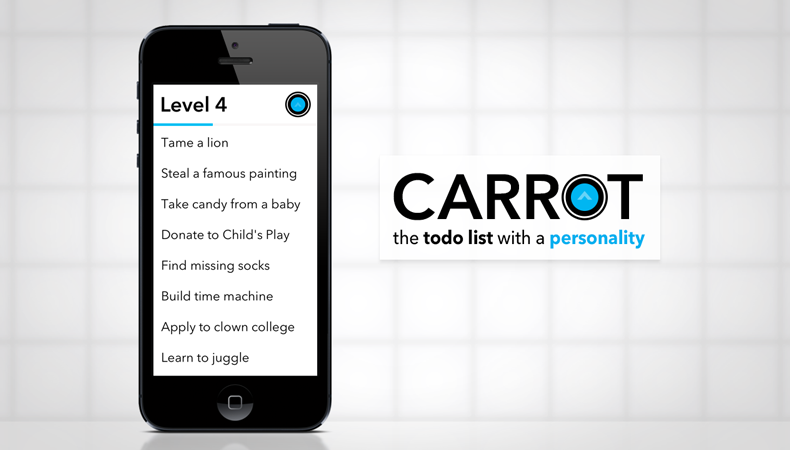 What It Is:
CARROT
What it Does:
Encourages you to get things done
Where to Buy It:
Meetcarrot.com
What It Costs:
$1.99
There are many necessary skills required to stand out in the acting world. Strong talent, versatility and a demanding work ethic are a few that come to mind. However, strict organization can be essential in landing that big audition, and the CARROT app for iOS wants to help you get there.
There's no shortage of productivity apps out there, but you'll be challenged to find one with as much spunk and charisma as CARROT. The $1.99 app is among a newer wave of applications that uses gamification as a motivating factor—meaning you'll be rewarded for completing tasks with access to new in-app features.
These can range from getting alerts that nag you to accomplish your goals to a Cat-Cam video stream, which does exactly what its name implies. You unlock these goodies by leveling up through finishing goals. Sadly, I haven't unlocked the Cat-Cam yet, but the promise is alluring enough for me to quit procrastinating.
However, CARROT stands out for more than its rewards. The app strives to make your mundane tasks a little more enjoyable by employing a sassy, mildly sadistic motivator to lighten the mood. For example, if you tap the CARROT icon in the upper right corner of the screen, the digital task assistant will say, "Ahem! That's my ocular sensor. Don't touch it; you'll make it dirty." Not only does this add a hint of humor, but it gives the impression that CARROT is always watching you to see if you're slacking.
One of my favorite characteristics about CARROT is its simplicity. Despite its snarky behavior and hidden features, CARROT is a to-do list app at its core, and it makes sure you don't ever forget that. The user interface focuses on your tasks, putting them at the forefront as soon as you launch the app. Adding new goals is as simple as swiping down on the screen, and once a chore is completed you just slide it to the side to dismiss it.
Part of the fun is discovering what prizes CARROT has for you upon completing goals, so I won't spoil too much here. But if you need some extra incentive to help you dust off that aging screenplay, update your reel or rehearse for your approaching audition, CARROT may do the trick. Self-motivation is a crucial factor for finding success in show business, and CARROT is designed for those who struggle with putting in the extra time.