Carson Daly is two days away from his 40th birthday. This fact seems impossible, not only because Daly looks boyishly youthful but because many still think of Daly as the voice of a young generation, surrounded by screaming teenage girls on MTV's "Total Request Live." Even though Daly left "TRL" more than a decade ago, he will always be associated with the phenomenon that transformed him from a Los Angeles radio DJ to a media superstar overnight. Now Daly is everywhere. Wake up in the morning and you can hear him on L.A.'s AMP 97.1 radio show. In primetime, he's the host of the top-rated singing competition "The Voice," which recently finished its fourth season on NBC. And for the night owls, Daly can be seen on late-night talk show "Last Call With Carson Daly," which just wrapped its 12th season.
So the obvious question, one Daly has heard endlessly, is where does he find the time? "It sounds worse than it is," he says of the workload. "First of all, I'm not digging ditches. I have a good perspective on what I do for a iiving. There's people who work one job and work a lot harder than I do." Daly is sitting in his office, having just wrapped his morning show, and he points out there aren't many jobs where he could come to work in shorts and a T-shirt and play music. "I hope people know I'm so very grateful for the opportunities I've had. There's not a day that goes by that I'm not thankful for the work that I get."
Particularly given that Daly never saw himself as someone who would end up on TV. For a brief time in high school, he considered becoming a priest. "That's been a bit overpublicized; it was just something I thought about," he says. "It's an interesting story when a young kid who thought about going to the seminary ends up at MTV playing Marilyn Manson videos." Faith is still a huge part of his life; "I'm Catholic, so I'm constantly guilty and anxiety-ridden," he says. He began his career as an intern to Jimmy Kimmel at L.A.'s popular radio station KROQ, where neither he nor his boss ever dreamed they would end up late-night talk-show hosts. (Daly now does his radio show from the same building as KROQ, where he regularly sees his old co-workers.) Though he grew up in affluent Santa Monica, Daly says he didn't come from money and has been working since the age of 12. "I was filing EZ tax forms and crashing on friends' couches and floors for a time," he recalls, so when he landed his own nighttime show at KROQ he thought he had it made. "I was making money, leasing a car…life was good. I figured I could just do this for 15 to 20 years." Then MTV came calling, first for the summer series "Motel California"; then, based on that, it asked him to move to New York, where "Total Request Live"—and a star—was born.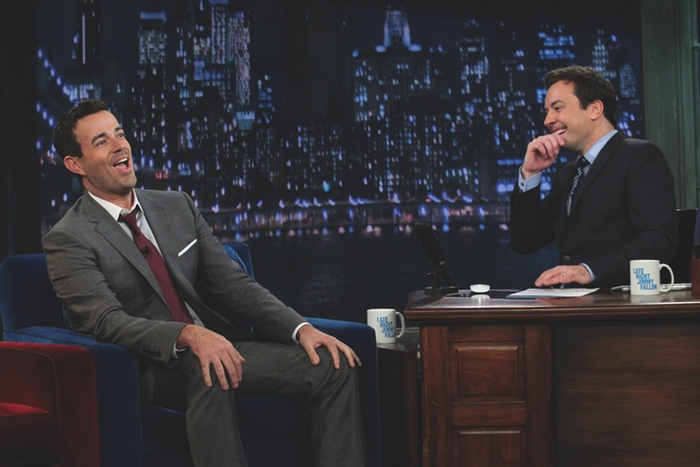 Daly doesn't know how he became part of the cultural zeitgeist. "A lot of it was just being in the right place at the right time," he says. Soon Jimmy Fallon was imitating him on "Saturday Night Live," once with the line "I'm Carson Daly, and I'm a massive tool." But there were no hard feelings between the two; Fallon had the office next door to Daly in New York and would run down and do the imitation for him. "I would be laughing every time," Daly says. "If you can't poke fun at yourself, you're going to be screwed." A reference in an Eminem song followed, as did a cameo as a psychotic version of himself in "Josie and the Pussycats." And of course, Jason Lee's title character on "My Name Is Earl" learns about the concept of karma while watching an episode of "Last Call." It also features a character asking, "Who is this Carson Daly? Is he some sort of spiritual leader? A holy man?" To this day, Daly has a jacket from the show whose inside pocket reads "Carson Daly: Holy Man."
When it comes to learning how to host, Daly says it's all about practice. "It's just reps. Doing it," he says. "There are certain things that make a good interviewer. I think you have to be interested for the interview to be interesting." That is why he considers Howard Stern "the best interviewer on the planet," noting, "At the core, not only is he a great guy; he has an insatiable appetite to learn about people. And when you're genuinely interested, you're going to be an amazing interviewer." He says he learned from bad interviews—and he has them to this day. "There have been times where maybe I wasn't as prepared as I should have been," he says. "If there were bad ones, it was definitely my fault and not the person I was talking to."
He's also grateful that "Last Call" is in the 1:35 a.m. time slot, which gave him an opportunity to try things out—and fail. "In the beginning, when I was wearing a suit and doing monologue jokes, it never felt right," he says. "It was trial and error; you don't know until you try." He recalls early days of the show where he would invite guests to his dressing room for a drink after he had interviewed them at his desk. "We would just be sitting around bullshitting, and I would think, 'Why isn't the show this?' " He got the opportunity to change things up when, in his words, "they took the money away." As budgets were being cut, he was told he could only have a third of the original budget to continue his show. So the biggest expense—the studio—had to go. "But we ended up loving it," he says. "I felt like I was at MTV. I didn't have to wear the tie and have the desk." In addition, he was fairly certain his show was about to be canceled. "So I sat down with my producer and said, 'Listen, we're probably going to get canceled anyway. We may as well start doing the show we want to start doing.' And only when you stare fear and unemployment in the face—and thank God I did because it brought us to where we are now. And I love the show where it's at." Now the show is shot at various locations around town and features long-form interviews with people Daly selects. It's shot with a small crew of people who serve as shooters, producers, and editors—or as he calls them, "preditors."
On his 40th birthday, Daly flew to New York to fill in for Matt Lauer on "The Today Show"—in other words, he was working. But he refuses to call himself a workaholic or even look at it as a job. "This is like Disneyland for me," he says. "There's something about turning 40 and spending 15, 20 years in the business now where finally I feel like I've found jobs that work well for me. I love radio—which I have to remind myself of every morning when the alarm goes off at 4:30. I'm so grateful to be doing the work I'm doing." He pauses and allows himself a laugh before adding, "And I don't feel like I'm a tool anymore."